Treatment
Laser tattoo removal in Vienna
Effective laser tattoo removal in Vienna, thanks to the proven technology of Dermacare.
Say goodbye to your tattoos.
Our highly developed lasers lead to fast aesthetic results that will inspire you. Get detailed advice from doctors and specialists and find out what your chances of success are for tattoo removal.
Professional tattoo removal by trained doctors.
State-of-the-art technology
We use state-of-the-art picolasers, nano- and ruby lasers specially developed for tattoo removal, which are designed for safe and effective tattoo removal. With our devices almost all colours of a tattoo can be removed.
Professional treatment
Experience and conscientious handling of the technology is crucial. All specialists have an appropriate additional training and many years of experience. We can therefore look back on satisfied customers and great results in tattoo removal.
Individual consultation
In a detailed informative conversation, specialists and doctors will advise you about your wishes. You will receive an individual assessment of the expected success of the treatment, the costs and everything you need to know about the procedure and follow-up treatments.
The laser as the most effective method of modern tattoo removal
Laser tattoo removal is an extremely effective method for removing unwanted tattoos.
What do you do when you are young; your lover is immortalized "forever" by means of initials in the skin and yes, the little dolphin on the ankle was sooo cute! The reasons for tattoos range from cult to beer mood. It's just a pity if the lover doesn't "exist" anymore, the "beer mood" is over or the little dolphin has become a handsome whale.
Are you also tired of the sight of your outdated tattoo? Would you like to get rid of the faded colours and the motif that has come out of the years on your skin? Then a laser tattoo removal is just the right thing for you! Changed living or body conditions awaken in many people the desire to make existing tattoos disappear again.
Let this dream become reality. With the help of modern laser technology, almost all tattoos can be removed gently, completely and without scarring.
This is how tattoo removal works at Dermacare
The proven Q-Switched Nd:YAG-laser enables the best and fastest possible treatment results. In the pico-second range, the laser device triggers short pulsating laser light energy. Your skin is not additionally stressed by this, as the light only penetrates the colour pigments stored in the skin and destroys them. Your lymphatic system then removes the color pigments in a process lasting several weeks, or a crust forms on the skin, which transports the color out of the body. To remove tattoos completely, several treatments are always necessary at intervals of several weeks. The number of treatments depends on the following factors, among others:
Color of the tattoo
Size of the tattoo
Grooving depth
Stamped ink volume
Function of the lymphatic system
Your own involvement after the treatments
Let the doctors and specialists at Dermacare advise you and experience in a test treatment how your tattoo can be removed. Your advantages of a consultation:
In a detailed consultation you will receive all the information from the experience of thousands of treatments.
On request you will receive a test treatment.
You will learn what your chances of success for the treatment are.
You will receive your personal prognosis and your offer.
Which lasers do we use?
PICOPLUS – the most innovative 2nd generation picosecond laser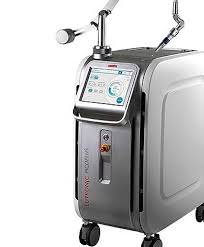 Picosecond lasers have been around since 2013, when the so-called PicoSure was on everyone's lips, but the technology was not yet mature.
The new PICOPLUS-laser from Lutronic introduces the 2nd generation of picosecond technology and is the most innovative system on the market. Dermacare is the first medical centre in Austria to use this laser. The PICOPLUS is the most powerful picosecond-laser ever built. It combines the safety and efficiency of a nanosecond laser with the improved performance and results of picosecond technology.
Advantages of the PICOPLUS-laser:
Picosecond laser of the new generation
better treatment results
both pico- and nanosecond technology in four different wavelengths (1064, 532, 595 and 660 nm). Therefore almost all colours can be treated
The treatment is less painful than ever
30% less treatments than with other laser systems
During the treatment the thermal reaction in the tattoo is lower, therefore the healing happens much faster
Due to the shorter pulses it is possible to treat with higher power
Almost all colours can be treated
Call us at 01 532 03 34, send us an e-mail to info@dermacare.at, book directly a suitable appointment for you, use our contact form to make an appointment for a consultation or treatment for a tattoo removal with laser!
You still have questions about tattoo removal?
FAQ Tattoo Removal contains answers to common questions about laser tattoo removal at Dermacare. These questions are not intended to replace a consultation with our experts, but they do give a first orientation.
FAQ about tattoo removal
Pictures before and after laser tattoo removal at Dermacare
The following pictures show the treatment success and before-after pictures of laser tattoo removal at Dermacare. The successes can vary depending on the skin type and depend on the color, size, depth of penetration, amount of ink applied, function of the lymphatic system and your own involvement after the treatments.
Treatment procedure of the laser tattoo removal
1. Digital photo of the skin
The treatment procedure of a tattoo removal in Vienna at Dermacare, is explained in detail below. Before each treatment a digital photo of your tattoo is taken to document your treatment progress.
2. Desinfection
After subsequent desinfection, the laser treatment begins, which feels similar to the stinging of a tattoo. If you prefer to feel as little as possible, it is advisable to apply an anesthetic cream in advance.
3. Laser treatment
The tattoo is then treated with the special Q-Switched Nd:YaG laser. To make the treatment more comfortable, the tattoo is air-cooled.
4. Anti-inflammatory cream
An antiseptic cream is applied to prevent inflammation.
5. Bandage
The spot is bandaged. After the treatment, the treated area may be slightly reddened and swollen.
6. Cooling of the tattoo
After the treatment, a cool pack is placed on the treated area for 10 minutes. Keep the dressing dry for about 24 hours and only then start to care for the tattoo with appropriate products.
After about 4-6 weeks a clear lightening of the tattoo will be visible and the following treatment can be carried out.
Costs of laser tattoo removal at Dermacare
Note
The cost of laser tattoo removal depends on the size of the area to be treated and the type of tattoo. Faded tattoos can be removed more quickly than fresh, colourful professional tattoos.
For a small tattoo of 5×5 cm size (25 square centimeters) a treatment costs about 100 Euro.
A rough estimate for tattoos over 400 square centimetres in size (20×20 cm) is around 0.62 € per square centimetre per tattoo removal treatment.
For larger tattoos, we will be happy to prepare an individual cost estimate before the treatment begins and make special prices.
Information meeting
The initial consultation regarding tattoo laser treatment takes place at Dermacare Vienna with a doctor or experienced specialist. If treatment is given, no charge is made for the consultation. If a treatment is not carried out immediately, a fee of € 60,- will be charged, which will be credited to your account for future treatment.

Ich habe bei Dermacare die Entfernung eines Tattoos gestartet, weil das Institut mit Abstand die beste Website und Rezessionen hat.Obwohl mein Tattoo klein ist, und die Behandlung in unter 30sek. vorbei ist, ist das Beratungsgespräch immer sehr ausführlich.

...

Man wird hier wirklich professionell und vorallem freundlich behandeltAn dieser Stelle möchte ich mich bei Mateus für die tollen Behandlungen bedanken😊

read more

Ich kann Dermacare nur weiterempfehlen!Sehr gute Beratung, tolles Team und super freundlich!Ich bin bei Mateus in Behandlung, er erklärt alles super genau und auch nach öfterem nachfragen sehr nett und liebevoll beim erklären! Man fühlt sich bei Dermacare

...

gut aufgehoben und ich kann es wirklich jedem Weiterempfehlen!Top 👍🏻

read more

Наталья С.
12:16 05 Apr 22
Die Behandlung bei Mateus Yusupov war super! Sehr gut beraten, professionell behandelt, einfach top!!!

stockcity2000
20:34 07 Jun 22
Ich habe ein altes Tattoo, das ich mir schon lange entfernen lassen wollte. Durch das Internet bin ich auf das Institut Dermacare gestoßen u. habe mir gleich einen Onlinetermin, der mir sofort bestätigt wurde erhalten. Ich war jetzt bereits das dritte Mal bei

...

Mateus, ein sehr netter, freundlicher Arzt, der mich vor der ersten Behandlung bestens beraten hat, u. auch sehr auf meine Fragen eingegangen ist. Das ganze Team ist sehr freundlich u. hier fühlt man sich als Patientinwirklich wohl. Wer ein kosmetisches Problem hat, ist bei Dermacare bestens aufgehoben.

read more

Alexandra K.
12:38 13 Jun 22
War bereits das 3. Mal bei Mateus für eine Tattooentfernung. Es verlief schnell und unkompliziert. Ein sehr kompetenter und freundlicher Arzt. Komme gerne für andere Behandlungen wieder!

Franziska M.
18:50 08 Mar 22
Ich war schon das dritte Mal bei Mateus zur Tattoo Entfernung, schon nach einer Behandlung sieht man deutlich dass die Schattierungen weniger werden! Das ganze Team ist super nett und bemüht!! Überhaupt Mateus selbst ist immer mega lieb und zuvorkommend! Ich

...

kann Dermacare wirklich nur empfehlen 🥰

read more

Der Herr Dr Mateo berät einen sehr gut, ist sehr einfühlsam und kompetent. Er erklärt alles sehr gut und dadurch fühlt man sich bei ihm gut aufgehoben. Ich würde ihm auf jeden Fall weiterempfehlen. Zuzana

Herr Mateus Yusupov ist sehr sympathisch und arbeitet sehr professionell. Meine Mutter hatte eine Microblading Entfernung und Herr Mateus Yusupov hat alles ausführlich im Vorhinein erklärt und alle offenen Fragen beantwortet. Die Laserbehandlung hat nur ein

...

paar Sekunden gedauert. Alles TOP, können dies nur weiterempfehlen!

read more

Frau Dr. Cermak war sehr freundlich, hat mich gut über die Behandlung aufgeklärt und hat mir Angeboten bei einem (preislich inkludierten) Nachfolgetermin noch notwendige Korrekturen durchzuführen.

Ich bin schon länger bei Dermacare in Behandlung. Das gesamte Team ist sehr freundlich und zuvorkommend. Bin bei Klaudia und habe bisher bei ihr Permanent makeup erhalten und hydrofacial. Klaudia ist super nett, sehr kompetent und man fühlt sich bei ihr

...

extrem wohl und bestens betreut. Werde auf jeden Fall weiterhin zu ihr kommen.

read more

Zurzeit lasse ich mir mein Tattoo bei Mateus entfernen und bin total zufrieden. Er ist sehr kompetent, erklärt einem alles und nimmt sich immer genügend Zeit. Bin sehr froh, mich dafür entschieden zu haben, mein Tattoo bei Dermacare entfernen zu lassen, fühle

...

mich dort sehr gut aufgehoben. - kann es nur weiterempfehlen :)

read more

Marijana B.
09:23 28 Mar 22
Bin jetzt mehrmals zu Behandlung Augenbrauen permanent Make-up Entfernung bei Dr.Mateus, bin sehr zufrieden und sehr begeistert wie alles super toll funktioniert! Schnelle und genaue Arbeit und Beratung ! Empfehlungswert von jedenfalls! Ganze Team sehr

...

freundlich und hilfsbereit! Ganz toll !!!👏👏👏👏

read more

Ich habe mir meine Augenbrauen bei Mateus weglasern lassen. Die Ursprungsfarbe war Dunkelbraun. Obwohl ich seit 10 Jahren regelmäßig permanent Make Up immer wieder auffrischen war und alle möglichen Farben, unter anderem auch Tattoofarbe mit drinnen hatte,

...

war nach drei bis vier Sitzungen alles weg. Matus ist immer sehr freundlich, professionell und nimmt sich sehr viel Zeit. Kann man nur empfehlen 👍🏼👍🏼👍🏼

read more

Sehr guter Service! Von der ersten Berstung bishin zum letzten Laser stich. Man hat sich immer sehr wohl aufgehoben gefühlt und jede Frage wurde sehr professionell beantwortet. Falls jemand eine Tattoo Entfernung machen möchte, empfehle ich es sehr!

Die Behandlung bei Mateus ist einfach toll - von der Aufklärung bis zur Behandlung.

Ich fühle mich von Mateus sehr gut beraten und in guten Händen.

Matthias L.
15:18 05 May 22
Ich war mit der Behandlung bei Hr. Mateus von Anfang an sehr zufrieden! Ich kann das Institut nur weiter empfehlen!

Ich lasse mein Tattoo gerade von Mateus entfernen und bin super zufrieden. Er erklärt den Ablauf sehr gut, nimmt einem die Angst und arbeitet sehr sorgfältig. Auch die Kolleginnen im Empfangsbereich sind sehr freundlich und hilfsbereit. Ich fühle mich bei

...

Dermacare gut aufgehoben und gehe gerne hin!

read more

100% empfehlenswert! Ich kann aus eigener Erfahrung nur sagen: Geht gleich zu Dermacare und probiert nichts anderes aus! Mit seinem professionellen Vorgehen hat mich Herr Yusupov von meinem Rücken-Tattoo befreit! Ohne Narben! Einfach genial!!!

Ich hatte gestern meine 2 Behandlung(Tattooentfernung) bei Mateus.Ich bin sehr zufrieden bis jetzt, man muss zwar Geduld bei den ganzen haben aber das lasern war zum aushalten und man sieht auch bereits Fortschritte.Und Mateus ist ein sehr sympatischer,

...

zuvorkommender Mensch, der ganze Termin dauert zwar nicht länger als 15 Minuten aber er nimmt sich super Zeit für Fragen und geht auf einen ein. Hab schon den 3 Termin gebucht und zähle bereits wieder die Tage.

read more

Sehr zufrieden ! Das ganze Dermacare Team ist lieb und freundlich. Ich bin mit meiner Behandlung zur Tattoo-Entfernung sehr zufrieden und das Ergebnis ist top. Deshalb würde ich es auch jedem weiter empfehlen.

Had my second tattoo removal session with Matheus: I am happy with the results and can recommend Dermacare from personal experience.

Die Behandlung beim Dermacare war sehr nett und unkompliziert. Mateus ist sehr kompetent. Jederzeit wieder

Der Empfang war sehr Nett von den Damen 👍🏾👍🏾👍🏾Ich bin beim Doktor Yusupov Mateus in Behandlung. Bin sehr zufrieden, der Doktor ist sehr nett und kompetent.Ich würde ihn jederzeit weiter empfehlen.

Michaela F.
18:17 01 May 22
Sehr gute und kompetente Beratung. Auch bei der Tatooentfernung selbst, die jetzt nicht gerade angenehm ist, fühlt man sich sehr gut aufgehoben. Ich kann Herrn Mateus auf jeden Fall weiter empfehlen.

Tolle professionelle Behandlung von Mateus!

Ich bin super zufrieden ! Das ganze Team ist wahnsinnig freundlich und man wird toll empfangen. Einfach top. Ich bin in Behandlung bei Mateus zur Tattoo-Entfernung und bin mehr als zufrieden. Dermacare bietet auch ein sehr umfangreiches Angebot, daher würde

...

ich es auch, was ästhetische Behandlungen betrifft, jedem weiter empfehlen.

read more

Super nettes Team. Tolle Behandlung. Mein Tattoo ist komplett entfernt worden. Ohne Narben , Rötungen. Nur zu Hr Mateus 👍🏻🤩

Isabella B.
07:18 15 Mar 22
Wer schön sein will, muss leiden – Nicht ganz !Viele Jahre habe ich unter meinem misslungen PMU gelitten (14 Jahre alt), viele Jahre hab ich gehofft, dass es heller wird und verschwindet.Ich bereue es sehr, den Schritt zur Laserentfernung nicht früher

...

gemacht zu haben. Erst gestern hatte ich meine 2 Behandlung und vermutlich benötige ich auch keine weitere mehr. Das Ergebnis nach der 1. Behandlung war schon unglaublich!Ich kann es jedem nur empfehlen!Und bedanke mir sehr bei Hr. Dr. Mateus Yusupov !

read more

Permanent make up Entfernung (Augenbrauen) bei Herrn Mateus größer Erfolg nach der Ersten Beahndlung bin so froh den Schritt gemacht zu haben.

Natalia J.
17:39 14 Mar 22
Ich empfehle Dermacare jedem, der sich für die Tattooentfernung entschieden hat. Matheus arbeitet professionell, schnell und ist sehr zuvorkommend. Man merkt, dass die Tattoos über die Wochen schön verschwinden.

Bin zurzeit bei Mateus in Behandlung zur Entfernung meiner Augenbrauen. Ich bin wirklich total überrascht wie schnell und vor allem wie schmerzlos die ganze Behandlung abläuft. Hatte am Anfang ein wenig Bedenken wie schmerzhaft so eine Laserbehandlung ist und

...

wie danach meine Haut reagiert, da ich sehr empfindlich bin. Aber Mateus hat mir sehr schnell die Bedenken genommen, mir wirklich alles sehr genau erklärt und sich genügend Zeit für mich genommen.Bin sehr zufrieden und kann Dermacare wirklich jedem empfehlen, würde es jederzeit wieder machen.

read more

Daniela V.
13:25 20 Apr 22
Perfekt wie immer bei Mateus , gute Beratung und Betreuung

Aleksandra A.
12:47 16 May 22
Ich lasse mir eine Tätowierung bei Mateus entfernen und kann Ihn nur empfehlen. Gute Aufklärung, sowie Behandlung 👍

Wirklich super hier!Ich war bei Mateus und bin wahnsinnig zufrieden mit dem Ergebnis.

Ich war zur Entfernung von Microblading bei Dermacare. Sowohl die Damen am Empfang als auch Mateus waren sehr freundlich und zuvorkommend. Man wurde gut beraten und betreut. Erste Erfolge hat man bereits nach der ersten Behandlung gesehen, ich hoffe nun, dass

...

nach der zweiten Behandlung das Microblading komplett weg sein wird.

read more

Hatte leider wirklich sehr schlecht gemachtes Permanent Make-up bei der Augenbraue. Es war für mich eine absolute Katastrophe. Durch Zufall kam ich auf die Seite von DermaCare und schon nach der ersten Behandlung wusste ich das es keine Fehlentscheidung war!

...

Sehr freundliches und seriöses Unternehmen! Und nach meiner 6ten Behandlung kann ich sie mit Sicherheit herzlichst Weiterempfehlen! Besonders Herrn Mateus spreche ich meinen Dank aus da er sehr professionell arbeitet und alles im Detail erklärt. DANKE ❤

read more

Ich habe mich nach langem Überlegen dazu entschieden ein Tatoo entfernen zu lassen. Es war mir klar, es kostet Geld, Zeit und fordert auch Geduld.Bei Mateus fühlt man sich gut betreut und er erklärt einem auch die kostengünstigste Möglichkeit. Ich bin jetzt

...

froh mich dazu entschieden zu haben und ich nutze mittlerweile auch kosmetische Behandlungen im Institut, weil es mir einfach zusagt.

read more

Kristel L.
12:37 25 Jun 22
Great customer service at the reception and the appointments are always on time. Tattoo removal sessions with Mateus are informative, professional and friendly. I can highly recommend Dermacare for tattoo removal treatment.

Nettes und professionelles Personal! Alles Top bei der Tattoo - Entfernung Dr. M. ist sehr kompetent und freundlich. Habe mich kurzerhand entschieden noch ein Tattoo entfernen zu lassen, für dieses wurde nichts berechnet.

Ich bin sehr zufrieden mit der Behandlung von Mateus und es sind alle sehr nett!

Ich habe 3 Laserbehandlungen bei Mateus zur Augenbrauenentfernung durchführen lassen. Ich bin mit der Behandlung sowie dem Ergebnis sehr zufrieden. Mateus ist sehr beruhigend und führt die Behandlung innerhalb weniger Minuten durch. Von mir alle Daumen und

...

hoch und absolut Empfehlenswert .

read more

Gerlinde B.
09:31 14 Mar 22
Dermacare Matthäus ist einfach genial um unvorteilhafte PMA oder Microblading zu entfernen.Professionell und mit CharmeDanke für die zuverlässige Betreuung.

War heute bei Herrn Dr. Mateus Yusupov für eine Tattoo Entfernung. Freundlich, kompetent und äußert professionell. Kann Derma Care absolut jeden empfehlen.
Next Reviews
---