Treatment
Laser tattoo removal in Vienna
Effective laser tattoo removal in Vienna, thanks to the proven technology of Dermacare.
Say goodbye to your tattoos.
Since 2011, Dermacare has been considered the number 1 competence centre for tattoo removal in Austria with more than 70.000 treatments. Our highly developed lasers lead to fast aesthetic results that inspire. Let doctors and specialists advise you in detail and find out what your chances of success for tattoo removal are.
Professional tattoo removal by trained doctors.
State-of-the-art technology
We use state-of-the-art picolasers, nano- and ruby lasers specially developed for tattoo removal, which are designed for safe and effective tattoo removal. With our devices almost all colours of a tattoo can be removed.
Professional treatment
Experience and conscientious handling of the technology is crucial. All specialists have an appropriate additional training and many years of experience. We can therefore look back on satisfied customers and great results in tattoo removal.
Individual consultation
In a detailed informative conversation, specialists and doctors will advise you about your wishes. You will receive an individual assessment of the expected success of the treatment, the costs and everything you need to know about the procedure and follow-up treatments.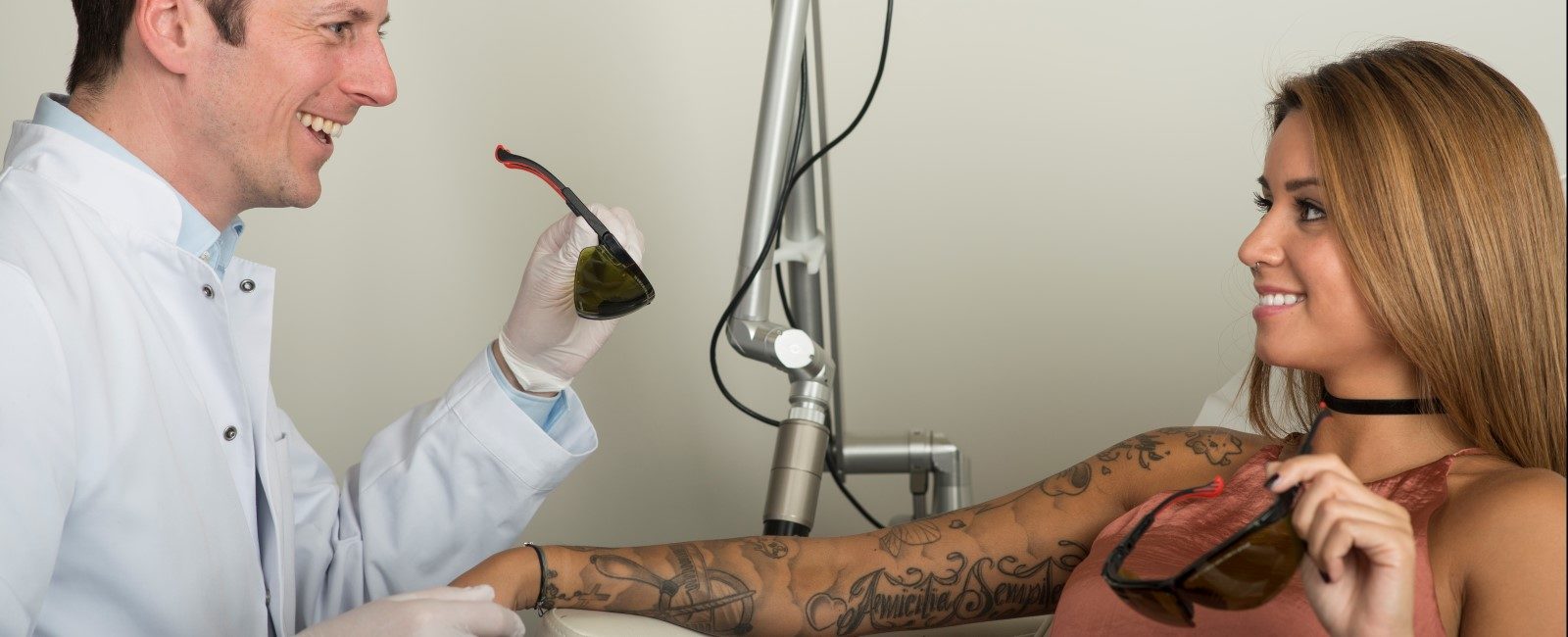 The laser as the most effective method of modern tattoo removal
Laser tattoo removal is an extremely effective method for removing unwanted tattoos.
What do you do when you are young; your lover is immortalized "forever" by means of initials in the skin and yes, the little dolphin on the ankle was sooo cute! The reasons for tattoos range from cult to beer mood. It's just a pity if the lover doesn't "exist" anymore, the "beer mood" is over or the little dolphin has become a handsome whale.
Are you also tired of the sight of your outdated tattoo? Would you like to get rid of the faded colours and the motif that has come out of the years on your skin? Then a laser tattoo removal is just the right thing for you! Changed living or body conditions awaken in many people the desire to make existing tattoos disappear again.
Let this dream become reality. With the help of modern laser technology, almost all tattoos can be removed gently, completely and without scarring.
This is how tattoo removal works at Dermacare
The proven Q-Switched Nd:YAG-laser enables the best and fastest possible treatment results. In the pico-second range, the laser device triggers short pulsating laser light energy. Your skin is not additionally stressed by this, as the light only penetrates the colour pigments stored in the skin and destroys them. Your lymphatic system then removes the color pigments in a process lasting several weeks, or a crust forms on the skin, which transports the color out of the body. To remove tattoos completely, several treatments are always necessary at intervals of several weeks. The number of treatments depends on the following factors, among others:
Color of the tattoo
Size of the tattoo
Grooving depth
Stamped ink volume
Function of the lymphatic system
Your own involvement after the treatments
Let the doctors and specialists at Dermacare advise you and experience in a test treatment how your tattoo can be removed. Your advantages of a consultation:
In a detailed consultation you will receive all the information from the experience of thousands of treatments.
On request you will receive a test treatment.
You will learn what your chances of success for the treatment are.
You will receive your personal prognosis and your offer.
Which lasers do we use?
PICOPLUS – the most innovative 2nd generation picosecond laser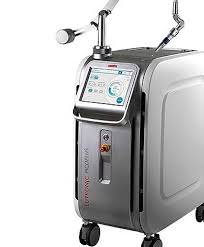 Picosecond lasers have been around since 2013, when the so-called PicoSure was on everyone's lips, but the technology was not yet mature.
The new PICOPLUS-laser from Lutronic introduces the 2nd generation of picosecond technology and is the most innovative system on the market. Dermacare is the first medical centre in Austria to use this laser. The PICOPLUS is the most powerful picosecond-laser ever built. It combines the safety and efficiency of a nanosecond laser with the improved performance and results of picosecond technology.
Advantages of the PICOPLUS-laser:
Picosecond laser of the new generation
better treatment results
both pico- and nanosecond technology in four different wavelengths (1064, 532, 595 and 660 nm). Therefore almost all colours can be treated
The treatment is less painful than ever
30% less treatments than with other laser systems
During the treatment the thermal reaction in the tattoo is lower, therefore the healing happens much faster
Due to the shorter pulses it is possible to treat with higher power
Almost all colours can be treated
Call us at 01 532 03 34, send us an e-mail to info@dermacare.at, book directly a suitable appointment for you, use our contact form to make an appointment for a consultation or treatment for a tattoo removal with laser!
You still have questions about tattoo removal?
FAQ Tattoo Removal contains answers to common questions about laser tattoo removal at Dermacare. These questions are not intended to replace a consultation with our experts, but they do give a first orientation.
FAQ about tattoo removal
Pictures before and after laser tattoo removal at Dermacare
The following pictures show the treatment success and before-after pictures of laser tattoo removal at Dermacare. The successes can vary depending on the skin type and depend on the color, size, depth of penetration, amount of ink applied, function of the lymphatic system and your own involvement after the treatments.
Treatment procedure of the laser tattoo removal
1. Digital photo of the skin
The treatment procedure of a tattoo removal in Vienna at Dermacare, is explained in detail below. Before each treatment a digital photo of your tattoo is taken to document your treatment progress.
2. Desinfection
After subsequent desinfection, the laser treatment begins, which feels similar to the stinging of a tattoo. If you prefer to feel as little as possible, it is advisable to apply an anesthetic cream in advance.
3. Laser treatment
The tattoo is then treated with the special Q-Switched Nd:YaG laser. To make the treatment more comfortable, the tattoo is air-cooled.
4. Anti-inflammatory cream
An antiseptic cream is applied to prevent inflammation.
5. Bandage
The spot is bandaged. After the treatment, the treated area may be slightly reddened and swollen.
6. Cooling of the tattoo
After the treatment, a cool pack is placed on the treated area for 10 minutes. Keep the dressing dry for about 24 hours and only then start to care for the tattoo with appropriate products.
After about 4-6 weeks a clear lightening of the tattoo will be visible and the following treatment can be carried out.
Costs of laser tattoo removal at Dermacare
Note
The cost of laser tattoo removal depends on the size of the area to be treated and the type of tattoo. Faded tattoos can be removed more quickly than fresh, colourful professional tattoos.
For a small tattoo of 5×5 cm size (25 square centimeters) a treatment costs about 100 Euro.
A rough estimate for tattoos over 400 square centimetres in size (20×20 cm) is around 0.62 € per square centimetre per tattoo removal treatment.
For larger tattoos, we will be happy to prepare an individual cost estimate before the treatment begins and make special prices.
Information meeting
The initial consultation regarding tattoo laser treatment takes place at Dermacare Vienna with a doctor or experienced specialist. If treatment is given, no charge is made for the consultation. If a treatment is not carried out immediately, a fee of € 60,- will be charged, which will be credited to your account for future treatment.

Sehr gute und freundliche Tattolaser Behandlung bei Mateus Yusupov !

Ich kann hier nur 5 Sterne hinterlassen , da nach jahrelangen Leidensdruck Herr Mateus Yusupov mit Geduld und einer umsichtigen Behandlung, mir meine natürlichen Augenbrauen zurück gegeben hat.Nach den Laserbehandlungen konnte das schlechte permanent

...

entfernt werden!Herzlichen Dank

read more

Eine großes Dankeschön an Mateus für Geduld & Professionalität! Auch an das ganze Team - sehr freundlich! Die online Buchungen funktionieren perfekt! 🔝💯🙏❤️

Eine sehr angenehmes Personal,Herr Mateus Yusupov ist eine sehr kompetenter Arzt , war immer sehr zufrieden.

Ich entferne mein Tattoo am Oberarm schon seit 1 und halb Jahren. Die ersten 10-12 Behandlungen war ich bei einer netten Hautärztin in Niederösterreich. Die Behandlungen mit einem Rubinlaser (wie ich kürzlich erfuhr) dauerten anfangs 15 Minuten und zum

...

Schluss dann 10-12 Minuten. Es war sehr schmerzhaft und danach blutete das Tattoo so stark, dass ich einige Tage ein Verband tragen musste. Die Schmerzen nach dem Lasern, waren überraschender weise, fast schlimmer als die Behandlung selbst! Einige Narben, hatten sich dadurch auch gebildet. Kein Wunder, bei den Krusten!Trotzdem dachte ich, ist halt so, wenn man sich ein Tattoo entfernen lässt ! Also Augen zu und durch!Da es einfach schon ewig dauerte, und auch kein Ende in Sicht war, entschloss ich meine nächste Sitzung bei DermaCare zu haben. Auch wenn ich wusste, das es um einiges teurer sein würde. Und ich muss ehrlich sagen, das ich schwer begeistert bin!Die Behandlung dauerte nicht mal 2 Minuten.Von den Schmerzen her, war es schon intensiv aber doch aushaltbar. Und viel lauter als der Rubinlaser. Aber das war auch aushaltbar! Ohne Betäubung das ganze noch dazu!Meine Hautfläche war danach gerötet. Aber keine Stelle meiner Haut hat geblutet!Ich bekam eine Creme und ein Verband und das wars. Völlig unkompliziert und das Team war noch dazu überaus professionell und freundlich!Nach der Sitzung, spürte ich schon das etwas auf meinem Oberarm gemacht worden ist. Nur von Schmerzen war das sehr weit entfernt. Eher so ein leichtes ziehen auf der Hautoberfläche und sah aus wie eine Brandwunde. Halb so wild ;) Nach keinen 2-3 Tagen ist alles gut abgeheilt und wird jetzt Wochen später schon deutlich heller! Bin gespannt auf die nächsten Monaten und den Prozess dieser Tattooentfernung bei DermaCare.

read more

Kann ich nur weiterempfehlen!Ich hab so lang schon versucht mein Microblading mit anderen Behandlungen entfernen zu lassen, da wurde mir Derma Care empfohlen und ich hab mir Online einen Termin bei Mateus gemacht. Die erste Behandlung war super schnell, und

...

das Schmerzempfinden im Vergleich zu den anderen Behandlungen nur gering.Mega nettes Service, echt! Komme gern wieder! :)

read more

It was my first time and I had good treatment. Thank youMateus yuspov

Mateus hat mich freundlichst empfangen, auch ein spontanes Vorverlegen des Termins war kein Problem, ich wurde stets gut beraten und über die einzelnen Schritte und Abläufe der Behandlung aufgeklärt.Rundum wurde ich von allen stets freundlich behandelt und

...

komme gerne wieder

read more

Ich hatte Microblading und Permanent Makeup Pudertechnik. Hat mir aber nicht mehr gefallen. Nach 5x Terminen war alles weg . Bin mit Hr. Matheus sehr zufrieden. Kann ich nur weiterempfehlen 👍

Ich lasse mir bei Dermacare meine Tattoos lasern und bin absolut zufrieden. Hier wird man nicht nur mit dem hochwertigsten Laser behandelt, sondern auch sehr gut beraten und betreut. Ich fühle mich sehr wohl und kann Dermacare nur wärmstens empfehlen.

Bettina T.
07:14 25 Nov 22
Ich bin zu Dermacare gekommen, da ich mein Permanent Makeup bei einem anderen Institut entfernen ließ bzw. 1 Behandlung durchgeführt wurde und es zu einer Farbveränderung kam, diese konnte jedoch nicht mit dem Nanolaser behandelt werden. Weiters war die

...

Reaktion meiner Haut auf den Nanolaser derart heftig, dass ich diese Prozedur kein 2. Mal über mich ergehen lassen wollte. Glücklicherweise ist Dermacare mit dem Picolaser ausgestattet, dieser kann nicht nur die entstandene Farbveränderung behandeln, sondern verursacht auch bedeutend weniger Hautirritationen. Eine Schwellung, die 2-3 Tage anhielt hatte ich dennoch, allerdings ist das kein Vergleich zur 1. Behandlung. Ich fühle mich gut beraten, bin zuversichtlich und freue mich auf das Endergebnis.

read more

Sehr professionell Beratung und Behandlung.Ich kann Dr Mateus nur empfehlen, sehr einfühlsam und sehr professionellVielen Dank

Behandlung beim Herrn Mateus war sehr gut.

Sehr nettes Team und angenehm gestaltetes Institut. Mateus nimmt sich viel Zeit und ist sehr empathisch, ich würde das Institut weiterempfehlen.

Dominik P.
09:51 08 Sep 22
Ich war in Behandlung einer Tattoo Entfernung bei Herr Yusupov, der souverän auftrat und mein Tattoo innerhalb weniger Monate entfernte.

Sehr professionelle, nette und schnelle Abwicklung bei Mateus. Eine ausführliche Beratung liegt ihm sehr am Herzen. Mein Augenbrauen PMU war in kurzer Zeit wie ausradiert. Vielen Dank, komme gerne wieder!

Super Ergebnisse und ein soo nettes Personal. Dachte nicht soo gute Ergebnisse bei meiner Freundin (Monica Cazacu) am Anfang schon zu sehen.Herr Mateus war sehr kompetent.Nur weiter zu empfehlen.

I found this clinic by chance online, I read about it and it seemed amazingly unreal until I got to this team of wonderful and dedicated people. the staff is very kind, they give you all the necessary information and what they present online is really true, I

...

am very satisfied with the first visit I had. Dr. Mateus consulted me and I had the first eyebrow tattoo removal session, I recommend it with all confidence!

read more

elisabeth G.
10:44 06 Feb 23
Sehr freundlich und kompetentEine durchwegs freundliche und vertrauensvolle Behandlung durch Hr. Mateus Yusupov

Gehe zur Tattooentfernung zu Mateus Yusupov und wurde wirklich nett und auch ehrlich über die Optionen und die Behandlung aufgeklärt. Ich musste noch nie länger als 5 Minuten auf meinen Termin warten, auch die Damen am Empfang sind wirklich nett und stehen

...

für Fragen immer zur Verfügung. Absolut empfehlenswert!

read more

Bin mit dem freundlichen umganag und die Aufklärung meiner Behandlung durch Herrn Mateus sehr zufrieden. In aller ruhe hat er mich für meine Behandlung (permanent makeup entfernung) aufgeklärt und meine fragen beantwortet.

TATTOOENTFERNUNG? BITTE UNBEDINGT ZU DERMACARE!!!Ich schreibe im Normalfall keine Bewertungen aber ich möchte andere Personen von einem unnötig schmerzhaften und teuren Fehler bewahren.Ich war bereits bei 2 anderen Instituten in Wien (für ca. 5

...

Behandlungen). Es ist absolut kein Vergleich zu Dermacare - liegt vermutlich zum einen an den Modernen Geräten und zum anderen an der jahrelangen Erfahrung von Herrn MateusDie ersten 5 Behandlungen bei den erwähnten "anderen Instituten" haben jeweils ca. 30-40 Minuten gedauert (großes Tattoo am Bein), waren relativ schmerzhaft und der Heilprozess war meist verdammt mühsam - da ich 2-3 Tage danach aufgrund extremer Schwellung nicht wirklich auftreten konnte. Außerdem haben sich 1x große "Blutblasen" und in weiterer Folge Narben gebildet.Meine heutige erste Behandlung bei Dermacare:Dauer: ca. 1 Minute (falls überhaupt....)Schmerzen: Dank Betäubung, kaum etwas gespürt.Heilprozess: Die Behandlung ist zwar erst ein paar Stunden her aber ich habe derzeit keine Schmerzen/Schwellungen und meinem Gefühl nach, könnte ich schon morgen wieder sportlich aktiv sein.EDIT: Kundenservice und Terminvereinbarung ist auch wirklich top und unkompliziert

read more

Katharina B.
14:57 21 Dec 22
Super tolles Team. Mateus Yusupov ist sehr einfühlsam und kompetent. Ich bin sehr zufrieden mit der Entfernung meiner Tattos und kann ihn wärmstens weiterempfehlen.

Sowohl der Kundenservice als auch die angebotenen Dienstleistungen sind bei Dermacare wirklich zufriedenstellend. Die Terminvergabe total unkompliziert, die Mitarbeiter am Empfang sehr freundlich und sehr kurze Wartezeit. Derzeit lasse ich gerade eine Tattoo

...

Laserentfernung machen. Herr Mattheus ist ein äußerst sympathischer und empathischer Mensch von dem ich mich sehr gut beraten und behandelt fühle. Ich kann dieses Institut auf jeden Fall weiter empfehlen.

read more

Tamalla F.
16:26 12 Aug 22
Ich war jetzt schon 3 mal bei Mateus bezüglich einer Tattooentfernung. Ich bin sehr zufrieden! Es wird alles gut erklärt und ich fühle mich dort immer sehr wohl! Absolute Empfehlung meiner Seits bezüglich Tattooentfernung!

Sabrina K.
15:15 08 Mar 23
Sehr kompetente und aufschlussreiche Beratung bei Mateus Yusupov. Das Lasern der Augennbrauen dauerte nur wenige Sekunden.

Ich habe nun schon die 5. Behandlung zur Tattooentfernung hinter mir und bin sehr zufrieden. Mateus ist sehr bemüht, dass alles schmerzfrei über die Bühne geht und sehr gut heilen kann. Sehr professionelle und vertrauenswürdige Praxis, habe mich richtig

...

entschieden!

read more

Richard C.
06:41 09 Nov 22
Hätte nicht gedacht das es so gut funktioniert jedoch schon nach der ersten Behandlung von meiner Mutter sieht man Ergebnisse.👍Die Mitarbeiter sind sehr freundlich und Herr Mateus hat seine Arbeit sehr kompetent durchgeführt.Sind sehr zufrieden mit

...

Dermacare und würden es weiterempfehlen. 💪🏼

read more

Mateus Yusupov hat schnelle unkomplizierte Arbeit geleistet und alles sehr gut erklärt. Gerne wieder sehr empfehlenswert.

Ich bin Beim Hr. Mateus in Behandlung gewesen ein sehr netter und lieber Mensch ich bin sehr begeistert.Danke An Herr Mateus

Daniela M.
16:10 02 Feb 23
Ich war heute das erste Mal bei Herrn Mateus und ich bin total begeistert er war total einfühlsam hat mich gut beraten und das erste Ergebnis ist schon ein Wahnsinn. Ich bin begeistert und kann die Behandlung zu 100% empfehlen!

Hallo ihr lieben ich war bis jetzt 8 mal in Behandlung in einem Kosmetikstudio die auf weiteres mir versprachen das mein Tattoo bald Weck sein würde, doch es waren nur leere versprechen und Narben die hinterlassen wurden. Bis ich auf DERMA CAR zu traf, allein

...

schon beim Beratungsgespräch haben sie mich erleichtern können. Gestern war meine erste Behandlung und ich merke Fortschritte das mein Tattoo trotz der Fremd Arbeit, Trotz der Narben entfernt wird dank Ihnen.Das Studio kann ich nur weiter empfehlen .

read more

Sehr gute Beratung und Behandlung, habe Permanent Augenbraue entfernen lassen, kurz und fast schmerzlos!Vielen Dank an Mateus Yusupov

War heute bei Herrn Dr. Mateus Yusupov für eine Tattoo Entfernung. Freundlich, kompetent und äußerst professionell. Kann Derma Care absolut jeden empfehlen.
Next Reviews
---