Treatment
Laser tattoo removal in Vienna
Effective laser tattoo removal in Vienna, thanks to the proven technology of Dermacare.
Say goodbye to your tattoos.
Our highly developed lasers lead to fast aesthetic results that will inspire you. Get detailed advice from doctors and specialists and find out what your chances of success are for tattoo removal.
Professional tattoo removal by trained doctors.
State-of-the-art technology
We use state-of-the-art picolasers, nano- and ruby lasers specially developed for tattoo removal, which are designed for safe and effective tattoo removal. With our devices almost all colours of a tattoo can be removed.
Professional treatment
Experience and conscientious handling of the technology is crucial. All specialists have an appropriate additional training and many years of experience. We can therefore look back on satisfied customers and great results in tattoo removal.
Individual consultation
In a detailed informative conversation, specialists and doctors will advise you about your wishes. You will receive an individual assessment of the expected success of the treatment, the costs and everything you need to know about the procedure and follow-up treatments.
The laser as the most effective method of modern tattoo removal
Laser tattoo removal is an extremely effective method for removing unwanted tattoos.
What do you do when you are young; your lover is immortalized "forever" by means of initials in the skin and yes, the little dolphin on the ankle was sooo cute! The reasons for tattoos range from cult to beer mood. It's just a pity if the lover doesn't "exist" anymore, the "beer mood" is over or the little dolphin has become a handsome whale.
Are you also tired of the sight of your outdated tattoo? Would you like to get rid of the faded colours and the motif that has come out of the years on your skin? Then a laser tattoo removal is just the right thing for you! Changed living or body conditions awaken in many people the desire to make existing tattoos disappear again.
Let this dream become reality. With the help of modern laser technology, almost all tattoos can be removed gently, completely and without scarring.
This is how tattoo removal works at Dermacare
The proven Q-Switched Nd:YAG-laser enables the best and fastest possible treatment results. In the pico-second range, the laser device triggers short pulsating laser light energy. Your skin is not additionally stressed by this, as the light only penetrates the colour pigments stored in the skin and destroys them. Your lymphatic system then removes the color pigments in a process lasting several weeks, or a crust forms on the skin, which transports the color out of the body. To remove tattoos completely, several treatments are always necessary at intervals of several weeks. The number of treatments depends on the following factors, among others:
Color of the tattoo
Size of the tattoo
Grooving depth
Stamped ink volume
Function of the lymphatic system
Your own involvement after the treatments
Let the doctors and specialists at Dermacare advise you and experience in a test treatment how your tattoo can be removed. Your advantages of a consultation:
In a detailed consultation you will receive all the information from the experience of thousands of treatments.
On request you will receive a test treatment.
You will learn what your chances of success for the treatment are.
You will receive your personal prognosis and your offer.
Which lasers do we use?
PICOPLUS – the most innovative 2nd generation picosecond laser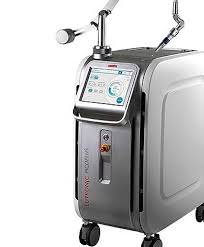 Picosecond lasers have been around since 2013, when the so-called PicoSure was on everyone's lips, but the technology was not yet mature.
The new PICOPLUS-laser from Lutronic introduces the 2nd generation of picosecond technology and is the most innovative system on the market. Dermacare is the first medical centre in Austria to use this laser. The PICOPLUS is the most powerful picosecond-laser ever built. It combines the safety and efficiency of a nanosecond laser with the improved performance and results of picosecond technology.
Advantages of the PICOPLUS-laser:
Picosecond laser of the new generation
better treatment results
both pico- and nanosecond technology in four different wavelengths (1064, 532, 595 and 660 nm). Therefore almost all colours can be treated
The treatment is less painful than ever
30% less treatments than with other laser systems
During the treatment the thermal reaction in the tattoo is lower, therefore the healing happens much faster
Due to the shorter pulses it is possible to treat with higher power
Almost all colours can be treated
---
REVLITE SI – The proven and safe laser in tattoo removal

With the Revlite laser Dermacare 2015 introduced the most proven laser system at that time. Since then thousands of tattoos have been successfully removed with it.
The Revlite SI uses Nd:YAG as laser medium and is safe for all skin types
The laser works with almost all tattoo colours and dissolves them
Use of four different wavelengths (1064nm/532nm/ 650nm and 585nm) for almost all colours
The device has about 60% more energy than comparable lasers
The spot size reaches up to 10mm, which allows faster treatments and a deeper penetration into the skin
Single pulses of 5 nanosecond probes break the tattoo ink without damaging the skin
Precise laser beam and uniform beam profile
Call us at 01 532 03 34, send us an e-mail to info@dermacare.at, book directly a suitable appointment for you, use our contact form to make an appointment for a consultation or treatment for a tattoo removal with laser!
You still have questions about tattoo removal?
FAQ Tattoo Removal contains answers to common questions about laser tattoo removal at Dermacare. These questions are not intended to replace a consultation with our experts, but they do give a first orientation.
FAQ about tattoo removal
Pictures before and after laser tattoo removal at Dermacare
The following pictures show the treatment success and before-after pictures of laser tattoo removal at Dermacare. The successes can vary depending on the skin type and depend on the color, size, depth of penetration, amount of ink applied, function of the lymphatic system and your own involvement after the treatments.
Treatment procedure of the laser tattoo removal
1. Digital photo of the skin
The treatment procedure of a tattoo removal in Vienna at Dermacare, is explained in detail below. Before each treatment a digital photo of your tattoo is taken to document your treatment progress.
2. Desinfection
After subsequent desinfection, the laser treatment begins, which feels similar to the stinging of a tattoo. If you prefer to feel as little as possible, it is advisable to apply an anesthetic cream in advance.
3. Laser treatment
The tattoo is then treated with the special Q-Switched Nd:YaG laser. To make the treatment more comfortable, the tattoo is air-cooled.
4. Anti-inflammatory cream
An antiseptic cream is applied to prevent inflammation.
5. Bandage
The spot is bandaged. After the treatment, the treated area may be slightly reddened and swollen.
6. Cooling of the tattoo
After the treatment, a cool pack is placed on the treated area for 10 minutes. Keep the dressing dry for about 24 hours and only then start to care for the tattoo with appropriate products.
After about 4-6 weeks a clear lightening of the tattoo will be visible and the following treatment can be carried out.
Costs of laser tattoo removal at Dermacare
Note
The cost of laser tattoo removal depends on the size of the area to be treated and the type of tattoo. Faded tattoos can be removed more quickly than fresh, colourful professional tattoos.
For a small tattoo of 5×5 cm size (25 square centimeters) a treatment costs about 100 Euro.
A rough estimate for tattoos over 400 square centimetres in size (20×20 cm) is around 0.62 € per square centimetre per tattoo removal treatment.
For larger tattoos, we will be happy to prepare an individual cost estimate before the treatment begins and make special prices.
Information meeting
The initial consultation regarding tattoo laser treatment takes place at Dermacare Vienna with a doctor or experienced specialist. If treatment is given, no charge is made for the consultation. If a treatment is not carried out immediately, a fee of € 60,- will be charged, which will be credited to your account for future treatment.

Ich bin sehr zufrieden mit der Leistung von Mateus, er ist sehr nett. Er erklärt alles sehr genau und nimmt einem die Angst. Mit der Behandlung (Lasern eines Augenbrauen PMU) bin ich bis jetzt voll zufrieden. Man sieht den Unterschied schon nach der ersten

...

Behandlung. Alle im Institut sind sehr freundlich, es ist sehr schön eingerichtet und sehr sauber. Kann ich jedem nur empfehlen.

read more

Bin zur Tattooentfernung zu Dermacare gekommen. Mateus war sehr nett und hat mir zu Beginn alles genau erklärt. Obwohl das Tattoo entfernen natürlich höllische Schmerzen mit sich bringt, hat er mir immer gut zugeredet und mir gesagt wie tapfer ich bin

...

(anscheinend auch im Vergleich zu manchen Männern ;))Habe auch meine weiteren Termine immer bei Mateus gebucht, er ist ein sehr angenehmer Mensch und man kann sich gut mit ihm unterhalten.Zusatz 08.9Habe das neue Angebot der Aquafacial-Behandlung inkl. Hautanalyse genutzt.Man bekommt einen QR Code wo man alles nochmal selber nachlesen kann und Klaudia erklärt auch alles super und gibt Tipps bzglGesichtspflege - Definitiv das Geld wert!Buchen ist easy online möglich.Klare Empfehlung!

read more

Ich war zuerst ein einer anderen Praxis in Behandlung. Nach 3 Behandlungen zur Tattooentfernung mit einen Nanolaser hatte ich kaum Erfolge. Nur Brandblasen und dadurch Narben.Bei Dermacare wurde ich viel besser aufgeklärt, die Behandlung geht viel schneller

...

und die Resultate sind so viel besser.Auch die Betreuung und das Team sind herausragend freundlich!Jeden, der sich ein Tattoo entfernen lassen möchte/muss, kann ich nur raten zu Mateus zu gehen. Alles andere kann weder preis- noch leistungsmäßig mithalten

read more

Ich war mittlerweile 3x bei DERMACARE zur Behandlung (Tattooentfernung). Die Terminreservierung online ist denkbar einfach und man kommt auch immer pünktlich zum Termin dran. Alle Mitarbeiter sind sehr freundlich und man fühlt sich gleich willkommen. Das

...

Institut ist sehr sauber, hell und modern eingerichtet. Die Behandlung wird äußerst professionell von Mateus durchgeführt und man wird über alles aufgeklärt. Bin sehr zufrieden und kann dieses Institut uneingeschränkt weiterempfehlen!

read more

Booked a Covid-19 test on the day. Great to have a 'manage my appointment' feature. I was in and out of the clinic in 10 minutes and had my antigen test results within 30 mins in a PDF format in German and English. I would recommend.

Matthew C.
07:11 30 Aug 21
Fast and efficient. I have used them three times for PCR test for travelling and had no issues. The system can be slightly confusing first time round because you will get one e-mail from the lab and a second, some time later, from Dermacare with the result

...

certificate attached - both German and English. (The first email will allow you to access the result with your login code if you are in a hurry). Also, you will receive the payment receipt by email, not in your hands. Not sure if it's the same every week, but last week I tried to book for a Monday and they were closed, so I had to find an alternative place for my test.

read more
Next Reviews
---