Treatment
Hair transplantation in Vienna
Consultation in Vienna, hair transplantation with FUE & FUE3 in nearby Hungary (only 50 minutes car drive from Vienna): inexpensive and safe!
The FUE & FUE3 technique is the most modern method of hair transplantation
Hair transplantation in Vienna by DERMACARE is carried out with FUE & FUE3 technique and is currently the most modern method for hair transplantation. Thanks to the new FUE & FUE3 technique, hair transplantation is completely painless and healing is very fast. Consultations and appointments for hair transplantation are made in 1010 Vienna, Morzinplatz 4. The procedure for hair transplantation is performed in Hungary at the PROHAARKLINIK – our trustworthy partner. The initial consultation for hair transplantation takes place at Dermacare Vienna.
Professional hair transplantation with FUE & FUE3 by experienced doctors
More than 7 years experience
For an aesthetically first-class result, the long experience of the doctors in FUE hair transplantation is crucial. Great treatment results with over 2,000 satisfied customers and more than 8 million transplanted grafts speak for it.
No pain, no scars, no cut marks
Using fine extraction needles, individual follicular units are removed from the neck area and reimplanted in the desired area. The procedure for hair transplantation is almost bloodless, the small wounds close within a few hours and heal within a week.
Individual consultation
Our specialists will advise you about your wishes in a detailed clarification discussion. You will receive an individual assessment of the expected success of the treatment, the costs and everything you need to know about the procedure and follow-up treatment.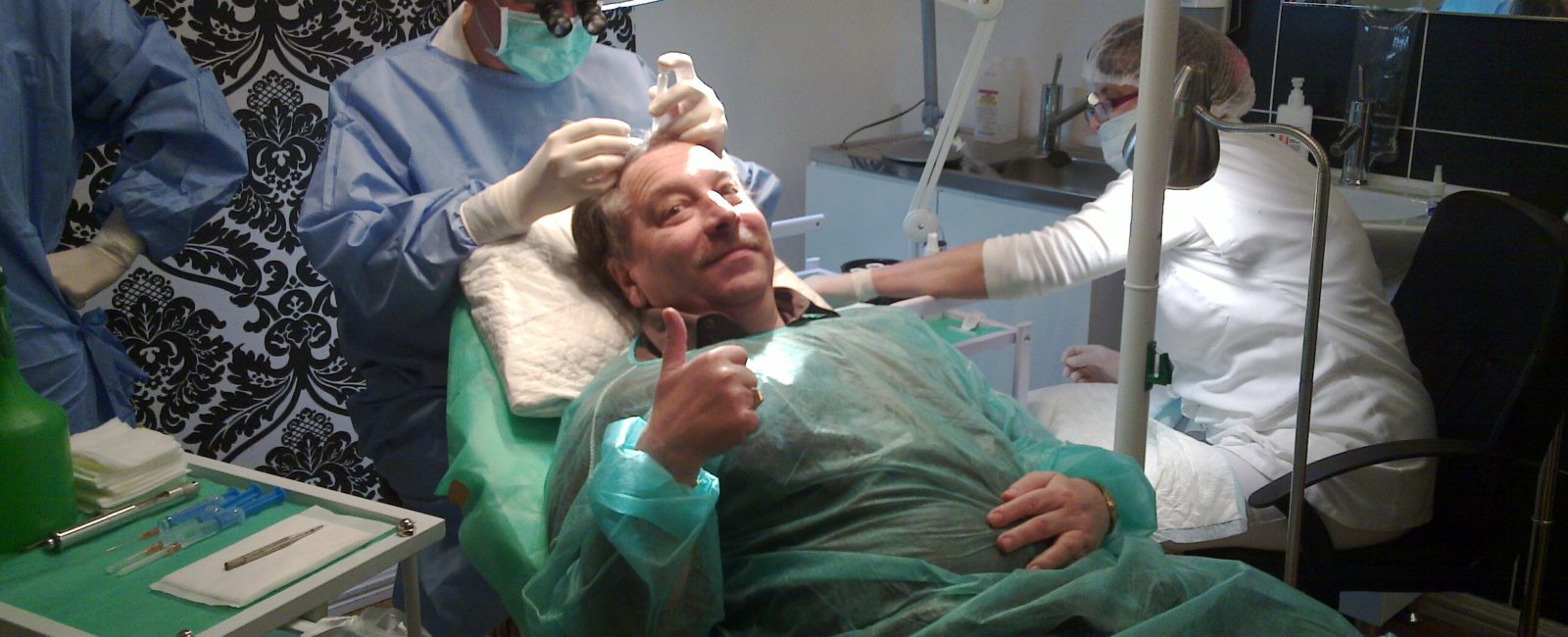 FUE & FUE3 technique as the most effective method of hair transplantation
Hair transplantation in the Prohaarklinik is performed using the FUE and FUE3 method. The FUE method is considered particularly gentle and achieves excellent results.
During a hair transplant in the Prohaarklinik, natural groups of hair (follicular units/FU) are removed from the neck area with an extremely thin hollow needle and re-inserted on the bald areas of the scalp.
The removal and transplantation of follicular units using the FUE method is particularly gentle. By using a special hollow needle, the risk of injury to the follicular units can be minimized.
In the hairless target area, the bald areas of the scalp where the follicular units are re-inserted are prepared for transplantation by microscopic stitches.
Therefore, neither cuts nor sutures are necessary for the operation. In contrast to other hair transplantation methods, the fast and problem-free healing does not lead to scarring. The result is lush and full hair.
The thread-wise hair transplantation with the FUE technique has the following advantages:
Excellent hair density
Healing within one week
No visible scarring
Painless treatment, without scalpel and sutures
Hair transplantation with FUE3 method
In hair transplantation using the FUE3 technique, the hollow needle used to remove the grafts from the scalp is even thinner than the already fine hollow needle used in hair transplantation using the FUE method. Thus, hair transplantation using the FUE3 method can achieve an even higher hair density than hair transplantation using the FUE method. Furthermore, the local anaesthesia for FUE3 hair transplantation is carried out in three stages, which makes the transplantation of the patient's own hair particularly gentle.
Pictures before and after hair transplantation at Dermacare
Click on the pictures to see the treatment success and before-after pictures of hair transplantation with FUE at our customers. Let our specialists advise you in detail and find out what your chances of success are.
Treatment procedure of hair transplantation with FUE & FUE3
Marking of the donor area
Drawing of the donor area in the neck area.
Shaving the donor area
Shaving the donor area. Shaving of the donor area is unavoidable in order to be able to remove the individual follicle units without problems. The hair in the donor area is shortened to a few millimetres in length.
Photos
With your personal consent, we will take photos before and after the hair transplantation to record the success of the hair transplantation.
Local anesthesia
The donor area is then anaesthetised locally.
Removal of the hair follicles
Carefully and precisely, the hair follicles to be transplanted are removed from the donor neck area with a hollow needle and temporarily stored in a petri dish with a special nutrient solution.
Anesthetizing the recipient region
The recipient region is then anaesthetised
Implantation of the extracted hair follicles
An extremely thin blade is used to create "channels" for the implantation of the grafts. Now the previously removed grafts from the donor area are implanted step by step in to the target area. To achieve an aesthetic final result, the natural hair growth direction is taken into account. Due to the local anesthesia, the scalp is insensitive during the hair transplantation.
Lunch
Your well-being is our concern, therefore the treatment is carried out in two parts. During the lunch break, a meal is prepared for you.
Completion of the treatment
In the second treatment phase, the remaining grafts, temporarily stored during the lunch break, are implanted.
Costs of hair transplantation in Vienna
Note
The individual costs of your hair transplantation depend on the number of grafts transplanted and how quickly the hair can be transplanted.
An optimal result is achieved with the transplantation of 28 to 30 grafts/cm², whereby a maximum of 1,800 grafts can be transplanted per day. A hair transplantation with less than 1,800 grafts is performed within one day. If more than 1,800 grafts are transplanted, the transplantation is divided into two days.
Expert discussion
The initial consultation regarding hair transplantation in Vienna is free of charge and takes place with an experienced specialist. We will take up-to-date photos of your scalp, discuss your desired result, the possible costs and you will receive a written offer.

Sehr kompetentes Team und top Leistung !Dr. Cermak ist immer freundlich und ich war bis jetzt jedes Mal zufrieden. :)

Ich war bis jetzt 3 x bei Dermacare und jedes mal sehr zufrieden. Ich komm sicherlich wieder! lg P.Z.

Praktisches Online-Terminsystem, kurze Wartezeiten, wunderbar ehrliche Betreuung. Ich habe mich sehr gut aufgehoben gefühlt.

super organisiert, ausgiebige Beratung & zufriedenstellende Behandlung! Ich war schon öfter da und komme gern wieder.

Mateus der mein Tattoo und Microblading entfernt ist sehr nett und fragt auch immer ob es passt oder eine Pause eingelegt werden soll .Mein Microblading bei denn Augenbrauen ist schon fast verschwunden .Kann das Institut nur weiterempfehlen

Ich hatte die Behandlung gegen Aknenarben mit dem CO2 Laser bei Dr. Cseh und bin total zufrieden! Während dem Beratungsgespräch hat er alles erklärt und alle Fragen ausführlich beantwortet. Schon nach der ersten Sitzung gibt's sichtbare Verbesserungen und

...

die Behandlung selber war überhaupt nicht schmerzhaft, als ich's mir vorgestellt habe. Herr Dr. Cseh ist äußerst kompetent, sympathisch und einfühlsam. Ich kann ihn 100% weiterempfehlen!

read more

Toller Service und Qualität und sehr aufmerksames Personal.

Super nette und kompetente Ordination! Ich lasse mir ein kleines Tattoo entfernen und die Behandlung dauert jedes Mal genau nur 3 Sekunden. Gute Aufklärung und sehr freundliches Team!

Sehr netter, kompetenter Arzt. Kommen zu weiteren Behandlung wieder. Danke für die schnellen Termine!

I recommend it 100% you can see the results from the first session, less pain than other methods and Mateus is very patient and explains the whole procedure always is also very pending Post session.Lo recomiendo 100% se ven los resultados desde la primera

...

sesión, menos dolor que otros métodos y Mateus es muy paciente y explica todo el procedimiento siempre además está muy pendiente Post sesión

read more

Die PRP-Behandlung bei Dr. Seiser hat meine Rosacea deutlich verbessert. Mein Hautbild hat sich seitdem stark beruhigt und die Rötungen und Entzündungen sind zurückgegangen. Ich bin mit den Ergebnissen der Behandlung sehr zufrieden und würde Dr. Seiser

...

definitiv weiterempfehlen.

read more

I had the pleasure to be Dr. Panajotis Telisselis's patient. I can only speak highly of his work and dedication. He is very kind, easy to talk to, he understands exactly what you need and is very precise in every procedure. I didn't feel rushed or

...

misunderstood, he is very patient. I loved the results, will definitely come back. Good job Dermacare! Highly recommend.

read more

Schnellen Termin erhalten, Tolles Team, TOP Leistung

Ich bin sehr zufrieden mit meinen Behandlungen mit Dr. Seiser, Kann ich nur weiterempfehlen "Lippen Filler" 😊

Super nettes Team! Preislich voll in Ordnung! Behandlung tut sau weh, aber das ist zu erwarten, wenn man sich ein Tattoo entfernen lässt. Alles sauber und super professionell!

Herr Dr. Panajotis Telisselis hat mich kompetent beraten, er war dabei sehr freundlich und empathisch.

Sehr freundliche, kompetente Beratung und Therapie bei Herrn Mateus. Kann ich nur weiterempfehlen. (Tattooentfernung)
Next Reviews