Treatment
Tattoo removal at Dermacare
Dermacare in Vienna removes your tattoo with laser
Tattoo removal in Vienna
Dermacare offers safe and inexpensive laser tattoo removal. Are you tired of your tattoo? Are you also tired of the sight of your outdated tattoo? Do you want to get rid of the faded colours and the old motif on your skin? Arrange a consultation appointment with our doctor now! Tattoo laser at Dermacare in Vienna achieves the best and fastest possible treatment results in tattoo removal.
Professional tattoo removal by trained doctors.
State-of-the-art technology
We use state-of-the-art picolasers, nano- and ruby lasers specially developed for tattoo removal, which are designed for safe and effective tattoo removal. With our devices almost all colours of a tattoo can be removed.
Professional treatment
Experience and conscientious handling of the technology is crucial. All specialists have an appropriate additional training and many years of experience. We can therefore look back on satisfied customers and great results in tattoo removal.
Individual consultation
In a detailed informative conversation, specialists and doctors will advise you about your wishes. You will receive an individual assessment of the expected success of the treatment, the costs and everything you need to know about the procedure and follow-up treatments.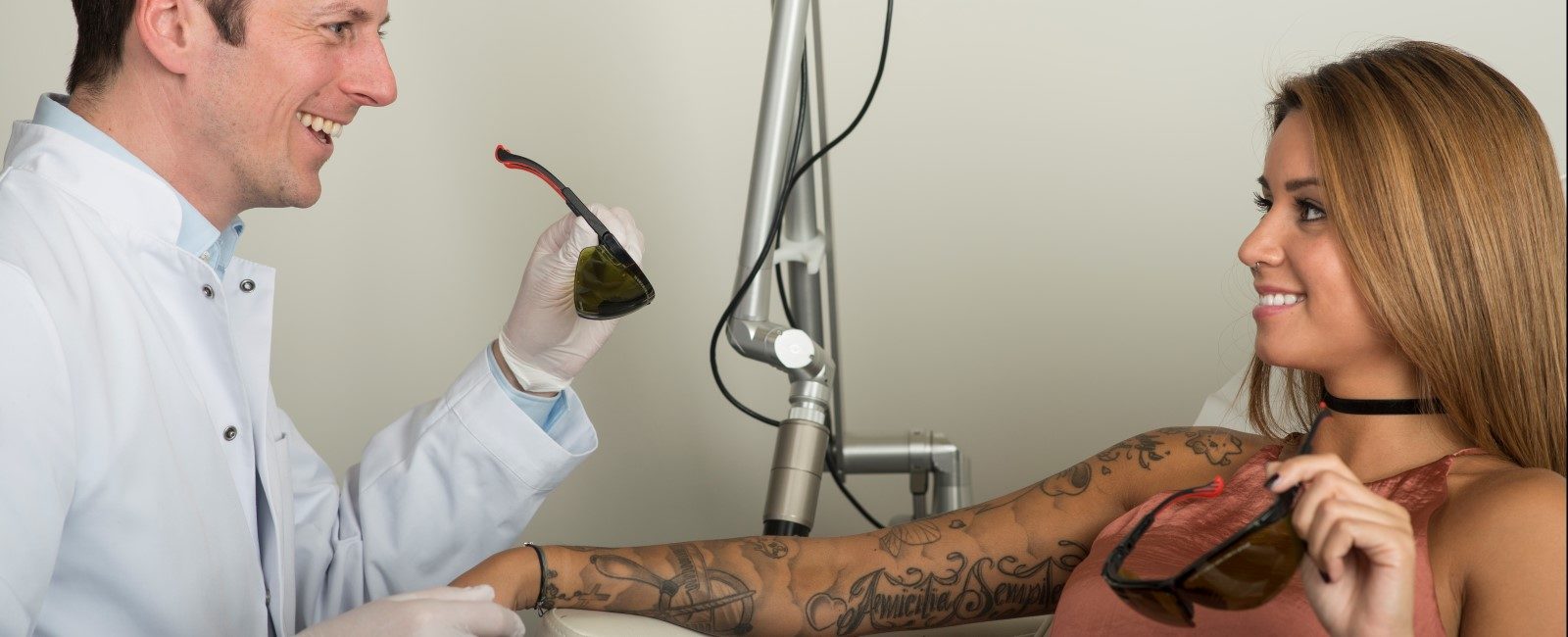 Tattoo removal in Vienna at Dermacare
Changed living or body conditions awaken in many people the desire to make existing tattoos disappear again. Then have your tattoo lasered at the Dermacare beauty institute in 1010 Vienna, Morzinplatz 4.
Tattoo removal in Vienna at Dermacare
To remove tattoos completely, several treatments are always necessary at intervals of several weeks. The number of treatments depends on the following factors:
Color of the tattoo
Size of the tattoo
Grooving depth
Stamped ink volume
Function of the lymphatic system
Your own involvement after the treatments
Let our specialists advise you and experience in a test treatment how your tattoo can be removed. Your advantages of a consultation:
In a detailed consultation you will receive all information from the experience of thousands of treatments
On request you will receive a trial treatment to take away your fear
You will learn from one of our dermatologists what your chances of success for the treatment are
You receive your personal forecast and offer
All this without any obligation
Tattoo removal costs
The cost of laser tattoo removal depends on the size of the area to be treated and the type of tattoo. Faded tattoos can be removed more quickly than fresh, colourful professional tattoos.
The cost depends on the size and color of the tattoo.
The treatment costs of a small tattoo (9 cm2) are about 5 Euro/cm2 and session.
Roughly estimated, for tattoos over 400 square centimeters in size, you can expect to pay about 0.62 € per square centimeter per tattoo removal.
For all tattoos, we will be happy to give you an individual cost estimate before treatment begins.
By the way: The assessment and consultation regarding laser tattoo removal as well as the preparation of a cost estimate is included in the initial consultation.
Learn more about laser tattoo removal at Dermacare
You still have questions about tattoo removal?
FAQ tattoo removal contains answers to the most common questions about laser tattoo removal at Dermacare. These questions are not intended to replace a consultation with our doctor, but they do give a first orientation.
FAQ about tattoo removal
Pictures before and after laser tattoo removal at Dermacare
The following pictures show the treatment success and before-after pictures of laser tattoo removal at Dermacare. The successes can vary depending on the skin type and depend on the color, size, depth of penetration, amount of ink applied, function of the lymphatic system and your own involvement after the treatments.
Treatment procedure of the laser tattoo removal
1. Digital photo of the skin
The treatment procedure of a tattoo removal in Vienna at Dermacare, is explained in detail below. Before each treatment a digital photo of your tattoo is taken to document your treatment progress.
2. Desinfection
After subsequent desinfection, the laser treatment begins, which feels similar to the stinging of a tattoo. If you prefer to feel as little as possible, it is advisable to apply an anesthetic cream in advance.
3. Laser treatment
The tattoo is then treated with the special Q-Switched Nd:YaG laser. To make the treatment more comfortable, the tattoo is air-cooled.
4. Anti-inflammatory cream
An antiseptic cream is applied to prevent inflammation.
5. Bandage
The spot is bandaged. After the treatment, the treated area may be slightly reddened and swollen.
6. Cooling of the tattoo
After the treatment, a cool pack is placed on the treated area for 10 minutes. Keep the dressing dry for about 24 hours and only then start to care for the tattoo with appropriate products.
After about 4-6 weeks a clear lightening of the tattoo will be visible and the following treatment can be carried out.
Costs of laser tattoo removal at Dermacare
Note
The cost of laser tattoo removal depends on the size of the area to be treated and the type of tattoo. Faded tattoos can be removed more quickly than fresh, colourful professional tattoos.
For a small tattoo of 5×5 cm size (25 square centimeters) a treatment costs about 100 Euro.
A rough estimate for tattoos over 400 square centimetres in size (20×20 cm) is around 0.62 € per square centimetre per tattoo removal treatment.
For larger tattoos, we will be happy to prepare an individual cost estimate before the treatment begins and make special prices.
Information meeting
The initial consultation regarding tattoo laser treatment takes place at Dermacare Vienna with a doctor or experienced specialist. If treatment is given, no charge is made for the consultation. If a treatment is not carried out immediately, a fee of € 60,- will be charged, which will be credited to your account for future treatment.

Sehr liebes und kompetentes Team. Man wird ausgezeichnet beraten und fühlt sich sehr gut aufgehoben.

Tolles Studio. Keine Wartezeit, freundlich und sauber. Bin zu Tattooentfernung bei Hr. Mateus. Er nimmt sich Zeit, macht Pause wenn gewünscht und das Ergebnis ist Top.👍

Assistentinnen und Dr. Cseh sind sehr freundlich, keine langen Wartezeiten vor dem Termin.

Empfehlenswert! Ich habe Dermacare schon mehrmals besucht. Besonders zufrieden war ich mit Gesichtsbehandlungen bei Klaudia und Permanent Make-up Entfernung bei Mateus. Klaudia ist sehr lieb und nimmt sich immer genug Zeit. Mateus brauchte nur 2 Sitzungen um

...

meine alte Augenbrauen loswerden. Als nächstes habe ich eine Behandlung mit CO2 Laser geplant. Die Beratung dazu bei Dr. Cseh war sehr hilfreich.

read more

Super nettes Team vor Ort, kann auch Dr. Cermak sehr empfehlen, sie ist super nett und einfühlsam und nimmt sich Zeit, um alle möglichen Fragen zu beantworten!

Sehr freundliche BetreuungEin große Lob an Bettina für meine Behandlung

Sehr kompetentes Team und top Leistung !Dr. Cermak ist immer freundlich und ich war bis jetzt jedes Mal zufrieden. :)

Ich war bis jetzt 3 x bei Dermacare und jedes mal sehr zufrieden. Ich komm sicherlich wieder! lg P.Z.

Praktisches Online-Terminsystem, kurze Wartezeiten, wunderbar ehrliche Betreuung. Ich habe mich sehr gut aufgehoben gefühlt.

super organisiert, ausgiebige Beratung & zufriedenstellende Behandlung! Ich war schon öfter da und komme gern wieder.

Mateus der mein Tattoo und Microblading entfernt ist sehr nett und fragt auch immer ob es passt oder eine Pause eingelegt werden soll .Mein Microblading bei denn Augenbrauen ist schon fast verschwunden .Kann das Institut nur weiterempfehlen

Ich hatte die Behandlung gegen Aknenarben mit dem CO2 Laser bei Dr. Cseh und bin total zufrieden! Während dem Beratungsgespräch hat er alles erklärt und alle Fragen ausführlich beantwortet. Schon nach der ersten Sitzung gibt's sichtbare Verbesserungen und

...

die Behandlung selber war überhaupt nicht schmerzhaft, als ich's mir vorgestellt habe. Herr Dr. Cseh ist äußerst kompetent, sympathisch und einfühlsam. Ich kann ihn 100% weiterempfehlen!

read more

Toller Service und Qualität und sehr aufmerksames Personal.

Super nette und kompetente Ordination! Ich lasse mir ein kleines Tattoo entfernen und die Behandlung dauert jedes Mal genau nur 3 Sekunden. Gute Aufklärung und sehr freundliches Team!

Sehr netter, kompetenter Arzt. Kommen zu weiteren Behandlung wieder. Danke für die schnellen Termine!

I recommend it 100% you can see the results from the first session, less pain than other methods and Mateus is very patient and explains the whole procedure always is also very pending Post session.Lo recomiendo 100% se ven los resultados desde la primera

...

sesión, menos dolor que otros métodos y Mateus es muy paciente y explica todo el procedimiento siempre además está muy pendiente Post sesión

read more

Die PRP-Behandlung bei Dr. Seiser hat meine Rosacea deutlich verbessert. Mein Hautbild hat sich seitdem stark beruhigt und die Rötungen und Entzündungen sind zurückgegangen. Ich bin mit den Ergebnissen der Behandlung sehr zufrieden und würde Dr. Seiser

...

definitiv weiterempfehlen.

read more
Next Reviews
---