Treatment
Removal of permanent make-up with laser in Vienna
Effective correction and removal of permanent make-up at Dermacare
Say goodbye to your permanent make-up
The Dermacare institute Vienna offers an effective method with different special lasers to remove permanent make-up (PMU) gently and scar-free. No matter whether you want to remove an unwanted or failed permanent make-up on the lip (lip contour), the eyebrows (eyebrow line, microblading), the Q-Switched laser with its 4 different wavelengths (532nm, 595nm, 660nm and 1064nm) works precisely and removes, unlike other lasers, almost every colour tone gently and without residue.
Get detailed advice from doctors and specialists and find out what your chances of success for PMU removal are.
Professional PMU removal by trained specialists
State-of-the-art technology
For the removal of permanent make-up, the world's newest and most modern picolaser, nano- and ruby laser are used, which guarantee a safe and effective removal. With our devices almost all colours can be removed.
Professional treatment
The experience and conscientious handling of the technology is crucial. All specialists have appropriate additional training and many years of experience. We can therefore look back on satisfied customers and great results in the removal of permanent make-up.
Individual consultation
In a detailed explanatory discussion, specialists and doctors will advise you about your wishes. You will receive an individual assessment of the expected success of the treatment, the costs and everything you need to know about the procedure and follow-up treatment.
The laser as the most effective method for removing permanent make-up
Permanent make-up is still a popular trend, but what if you no longer like permanent eyeliner, microblading of the eyebrows or the poorly worked, slightly frayed permanent lip contour?
With the help of modern laser technology, almost all permanent make-ups can be removed gently, completely and without scarring.
This is how the removal of permanent make-up at Dermacare works
The proven Q-Switched Nd:YAG-laser enables the best and fastest possible treatment results. In the nanosecond range, the laser device triggers short pulsating laser light energy. Your skin is not additionally stressed by this, as the light only penetrates the colour pigments stored in the skin and destroys them. Your lymphatic system then removes the color pigments in a process lasting several weeks, or a crust forms on the skin, which transports the color out of the body. To remove PMUs completely, several treatments are always necessary at intervals of several weeks. The number of treatments depends on the following factors, among others:
Colour of the PMU
Size of the PMU
Grooving depth
Stamped ink volume
Function of the lymphatic system
Your own involvement after the treatments
During a personal consultation at Dermacare, specialized doctors will provide you with comprehensive information about your treatment options and, with a view to the planned success of your treatment, will draw up a treatment plan, from which both the duration of the treatment cycle (number of sessions, interval between sessions) and the costs incurred will be determined.
Which permanent make-up can be removed with Dermacare?
Depending on the colour of the permanent make-up, the doctor selects the special laser. Dermacare is the only institute in the whole of Austria which has the latest PICO laser from Lutronic. With its four wavelengths (532nm, 595nm, 660nm and 1064nm) almost all colours can now be removed without residue.
Treatment with the laser to remove permanent make-up is suitable for the following common permanent make-ups:
Eyebrows (remove microblading)
Lash line extensions
Lip contouring
Beauty spots
You still have questions about PMU removal?
FAQ on the removal of permanent make-up contains answers to the most common questions about laser treatment at Dermacare. These questions are not intended to replace a consultation with the physicians, but they give a first orientation.
FAQ about PMU removal
Pictures before and after the removal of permanent make-ups at Dermacare
The following pictures show the treatment success and before-after pictures of the removal of permanent make-up with laser at Dermacare. The successes can vary depending on the skin type and depend on the color, size, depth of the stitches, amount of color, function of the lymphatic system and your own involvement after the treatments.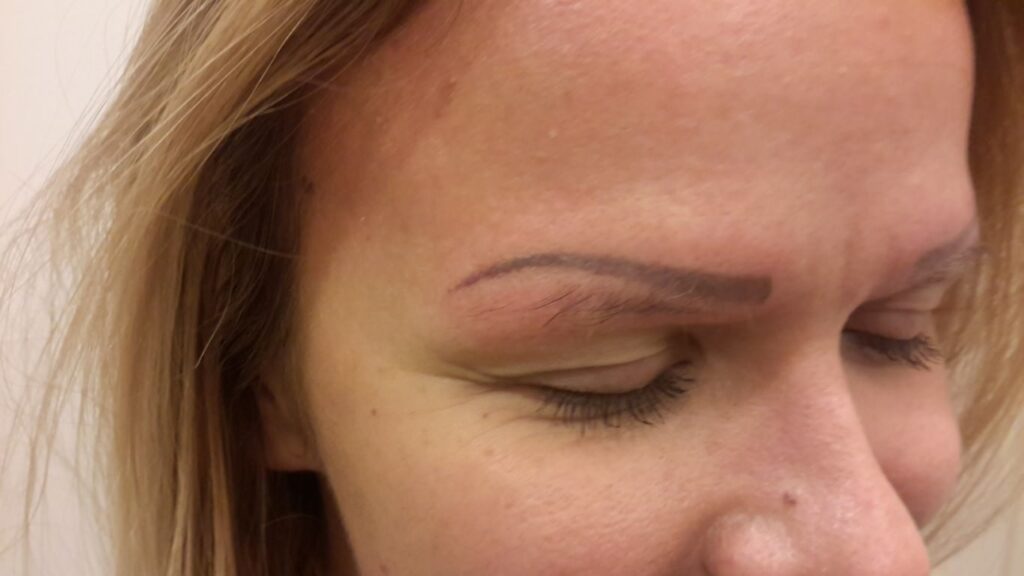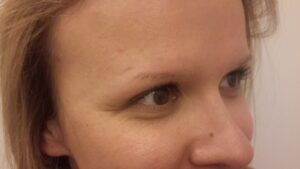 Permanent make-up eyebrows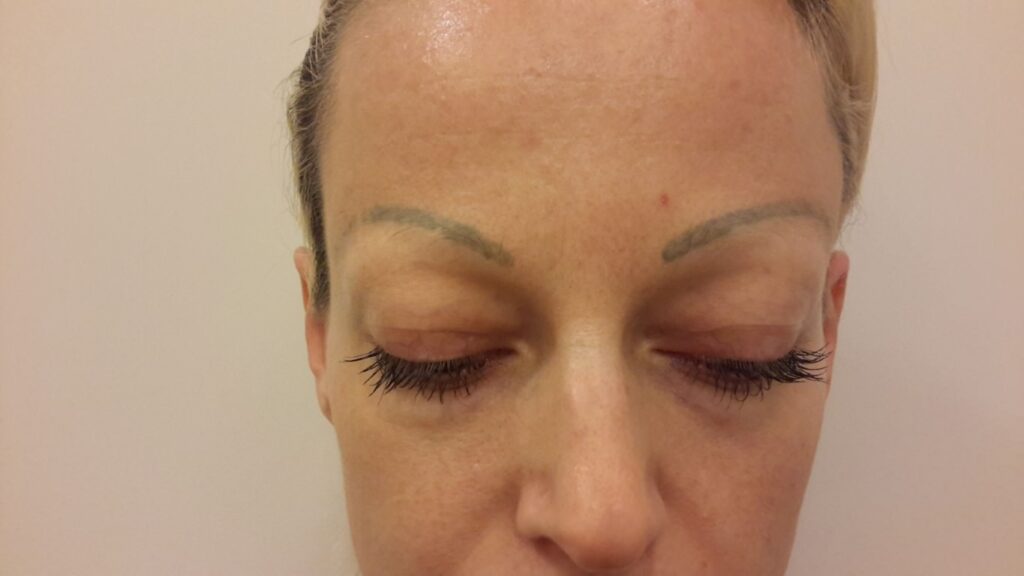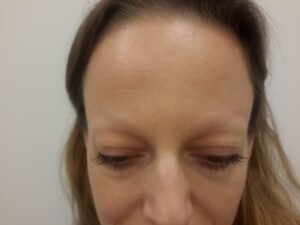 Treatment of a colour change before & after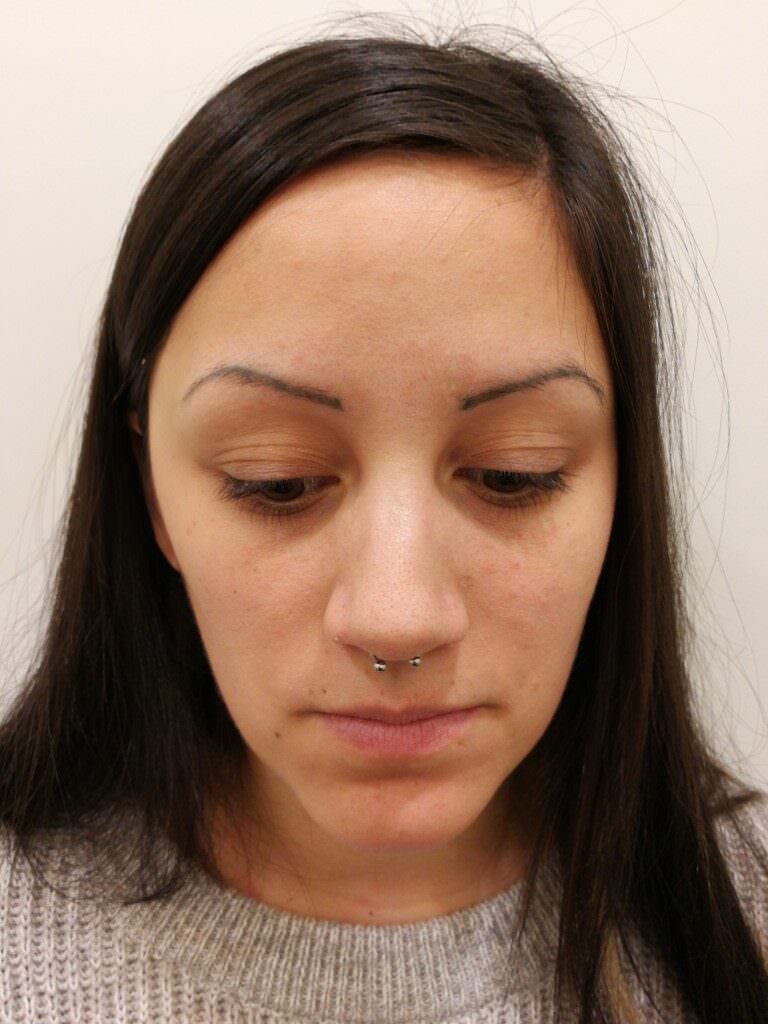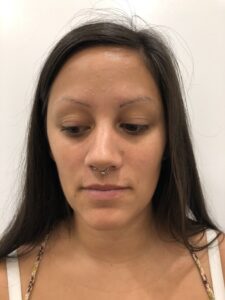 Eyebrows before and after 2 treatments
Permanent make-up removal: treatment procedure
Digital photo of the skin
The treatment procedure of a permanent make-up removal in Vienna at Dermacare is explained in detail below. Before each treatment a digital photo of your PMU is taken to document your treatment progress.
Desinfection
After subsequent desinfection, the laser treatment begins, which is similar to a stinging PMU in sensation. If you prefer to feel as little as possible, it is recommended to apply an anaesthetic cream beforehand.
Laser treatment
The permanent make-up is then treated with the special Q-switched Nd:YaG laser. To make the treatment more pleasant, the eyebrows are air-cooled.
Cooling of the lasered area
After the treatment, a cool pack is placed on the treated area for 10 minutes.
Anti-inflammatory cream
An antiseptic cream is applied to prevent inflammation.
Aftercare
The immediate reaction of the skin to the treatment is often slight redness and swelling, which disappears by itself. A thin crust then forms in the lasered region. For the post-treatment of the crust, ointments and creams are available to support the healing process of the skin.
Your attending physicians will provide you with comprehensive information on aftercare and care of the affected area and will be available at all times to answer your questions.
After the treatment, UV radiation should be avoided for several weeks, as it can promote unwanted pigmentation.
After about 4-6 weeks, a significant lightening of the permanent make-up will be visible and the follow-up treatment can be carried out.
Costs for the removal of permanent make-up at Dermacare
Note
The treatment price depends on the treatment effort, the size of the permanent make-up, the laser used and may vary in individual cases. In such a case the doctor will point this out to you in the consultation.
Expert discussion
The initial consultation regarding permanent makeup removal takes place at Dermacare Vienna with an experienced doctor or experienced specialist. If a treatment takes place, there are no consultation fees. If a treatment does not take place immediately, € 60,- will be charged as a fee, which will be credited for a future treatment.

Bis jetzt war ich 3 mal da aufgrund einer Laserbehandlung und dem dazugehörigen Erstberatungsgespräch.Zum Institut selbst: ich finde die Räumlichkeiten sehr sauber und modern. Man fühlt sich jedes mal sehr wohl.Die Mitarbeiter sind alle sehr freundlich

...

und professionell.Zur Laserbehandlung für Akne: die Behandlung ist nicht so schmerzhaft, wie ich es mir vorgestellt hätte. Die Frau Doktor achtet immer darauf, dass es mir zu jeder Zeit während der Behandlung gut geht.Ich empfehle Dermacare definitiv jeden weiter.

read more

Sehr kompetente Beratung, herzlicher Umgang mit den Patienten. Habe mich sehr wohl gefühlt.

Wir waren sehr zufrieden mit der Behandlung und dem Ergebnis der Muttermalentfernung von unserem Sohn bei Dr. Cseh. Wir waren auch froh, schnell einen Termin bekommen zu haben. Es sind nur mehr leicht rosarote Flecken zu sehen. Die Muttermale wurden mit

...

einer Schlinge entfernt und zur Untersuchung eingeschickt, danach via Laser "verschlossen". Danke, LG Doris Neuhold

read more

Sehr nette Ärztin und super Service. Ich bin jedesmal sehr zufrieden.

Sabine Rechbauer
1700729976
Ich habe vor einigen Jahren? begonnen mir meine 3 schwarzen kleinen 2-5?cm Tattoos bei Dermacare entfernen zu lassen (Handgelenk, Finger, Hinter dem Ohr). Ich möchte erst jetzt eine Bewertung abgeben, auch wenn ich keinen Vorteil mehr dadurch habe, weil ich

...

erst jetzt das Ergebnis 100% beurteilen kann. Ich hätte nie gedacht, dass die Tattoos wirklich zu 100% optisch verschwinden. Bis auf das Handgelenk, welches jetzt nach und nach auch ohne weitere Behandlung komplett verschwindet, kann ich bei den anderen 2 Stellen absolut nichts mehr sehen - habe auch keine Narben oder Hautveränderungen, aber habe auch immer die Stellen nach der Behandlung (die zugegebener Maßen schon sehr schmerzhaft ist) gepflegt und zudem Sonnenschutz verwendet. Ich hatte meine Zweifel, weil meine Haut nach der Behandlung nicht immer gut reagiert hat (Rötungen, bissi wie "blutig" oder blauer Fleck ähnlich und vom Gefühl wie eine Verbrennung) und manchmal sah ich keinen Fortschritt an Verblassung, aber der Tattooentferner hat mich immer sehr gut beraten und dann auch den Zeitraum der Behandlungen verlängert, sodass meine Haut Zeit hatte zu regenerieren. Ich glaube ich hatte 10-15 Behandlungen, weil ich bissi ungeduldig war und nicht wusste, dass der Körper auch Zeit braucht die Farbe abzubauen. Lange Rede kurzer Sinn: jetzt, gefühlt 1 Jahr? nachdem meine letzte Behandlung her ist, bin ich sehr glücklich mich für Dermacare entschieden zu haben und die Geduld hat sich gelohnt, die Haut sieht aus wie als wäre sie nie tätowiert worden.

read more

Extrem freundliche Mitarbeiter/innen.Behandlung sehr erfolgreich.Nadelepilation bei Fr.Ionela . Dieses Institut ist sehr empfehlenswert!

Manfred Winkler
1700653379
Sehr freundliche BetreuungEin große Lob an Bettina für meine Behandlung

Ich bin sehr zufrieden! Erklären alles sehr gut! Und sind sehr nett und professionell! Ich bin wegen einer tattoo Entfernung bei dermacare!

Veronika oeller
1699868701
Das gesamte Team ist sehr freundlich und bemüht. Auch wird versucht die Zeiten einzuhalten und die Behandlung war bis jetzt immer zu meiner Zufriedenheit. Mfg

alle - egal ob Empfang oder Ärzte - sind sehr freundlich und verständnisvoll, jede Frage wird ausführlich beantwortet, man fühlt sich gut aufgehoben, der Erfolg der empfohlenen Behandlungen ist ebenfalls ansprechendim Ganzen gesehen ein tolles Team,

...

angenehme Atmosphäre und gute Erfolge

read more

Mirjana Messerer
1699641545
Sehr professionell, sauber und ansprechend!Tolles, nettes und sehr kompetentes Ärzteteam und ein freundliches Empfangspersonal

Bernhard Kaiser
1699530620
Ich bin sehr zufrieden mit meiner Laserhaarentfernung bei Dermacare, super engagiert und freundliches Personal, keine Wartezeiten und eine einfache Verbindung da man von der U-Bahn Station aus nur 1 bis 2 Minuten zu Fuß gehen muss.

Carmen Kobaschitz
1699248437
Ich kann Dermacare nur weiterempfehlen . Sehr freundliches Personal, die Termine werden pünktlicheingehalten. Über den Erfolg derBehandlung kann ich noch nichts sagen , daß wird wohlnoch etwas dauern

Ich bin sehr zufrieden mit meiner Laserhaarentfernung - ist jeden Cent wert. Hab mittlerweile schon einige Sitzungen hinter mir und bin wirklich begeistert vom Ergebnis!Ebenfalls sind alle Mitarbeiter:innen stets super freundlich und absolut zuvorkommend -

...

special shoutout an Bettina, die absolut Beste 😍 Ich kanns wirklich nur weiterempfehlen.

read more

Auf Dermacare bin ich bezüglich Akne und Aknenarben gestossen. Mir wurde empfohlen eine Ciscutan-Therapie zu machen, was sich für mich als die richtige Behandlung erwiesen hat. Fr. Dr. Cermak hat mich durch die 9-monatige Behandlung sehr professionell und

...

einfühlsam geführt. Die ersten Ergebnisse kamen sehr schnell und ich bin jetzt mit meiner Haut sehr zufrieden - dafür bin ich Fr. Dr. Cermak sehr dankbar! Ich fühlte mich gut aufgehoben. Fr. Dr. Cermak ist kompetent und man merkt schnell, dass ihr ihre Patienten wichtig sind. In der Ordination fühlt man sich wohl und es herrscht eine gute Atmosphäre - alle sind freundlich und die Wartezeiten sind kurz.

read more

Alexandra Zobniv
1697472468
Sehr nettes Team! Fragen werden immer beantwortet, ich fühle mich sehr wohl bei der Behandlung und Tipps bekomme ich auch

Natalija Tirnanic
1697275670
Ich bin sehr zufrieden ,das ganze Tim sehr freundlich.Ich war beim Klaudia wegen verschiedener behandlungen und ich bin sehr zufrieden sie ist sehr professionell und kompetent sie schaut auf jede Kleinigkeit sehr präzis und als Mensch auch sehr hochwertig und

...

nett.

read more

Meine vierte Laserbehandlung hinter mir. Ich bin extrem Zufrieden und fühle mich sehr wohl.

Praxis in angenehmer AtmosphäreMan wird nett empfangen und gut beraten. Mit der Behandlung bin ich auch immer sehr zufrieden. Alles top!!

Ich bin seit einem Jahr bei Mateus um ein Tattoo entfernen zu lassen. Es ist eine sehr sanfte Methode und Mateus ist sehr einfühlsam und in Sekunden fertig. Die Räumlichkeiten sind sehr sauber und alle MitarbeiterInnen sind unglaublich freundlich! Top

...

Empfehlung!

read more

Hatte bisher meine 3te Behandlung zur Tattoo Entfernung und kann schon die ersten Ergebnisse sehen. Angenehm ist es nicht, aber mit Betäubungscreme gut auszuhalten. Mateus ist super vorsichtig während der Behandlung mit dem Laser und geht auch total auf

...

Kundenbedürfnisse ein.

read more

Sowohl die Beratung als auch die Behandlung einfach top
Next Reviews
---