Treatment
Vampire lifting in Vienna
The effective treatment with own plasma for skin rejuvenation
Vampire lifting - the skin refreshment with own plasma
The vampire lift is a procedure for people who want healthy, youthful and rejuvenated skin – quickly and without surgery. The body's own blood plasma is used to regenerate skin and hair. This tightens the skin and eliminates wrinkles naturally. The treatment can be performed during the lunch break and the effect lasts for months – sometimes even over a year.
Professional treatment by experienced specialists
Professional treatment
The experience of the doctor is decisive for an aesthetically first-class result. All doctors have appropriate additional training and a great deal of experience. Therefore we can look back on satisfied customers and great treatment results.
Only tested brand products
In order to achieve the best results with a long lasting effect, only clinically tested products such as botulinum toxin and hyaluronan filler from the most renowned manufacturers are used. These have been in use for many years and have proven themselves a million times over.
Individual consultation
In an informative discussion, the specialists will address your individual wishes and discuss the expected treatment result. You will learn everything you need to know about the procedure and aftercare and receive a personalized treatment plan.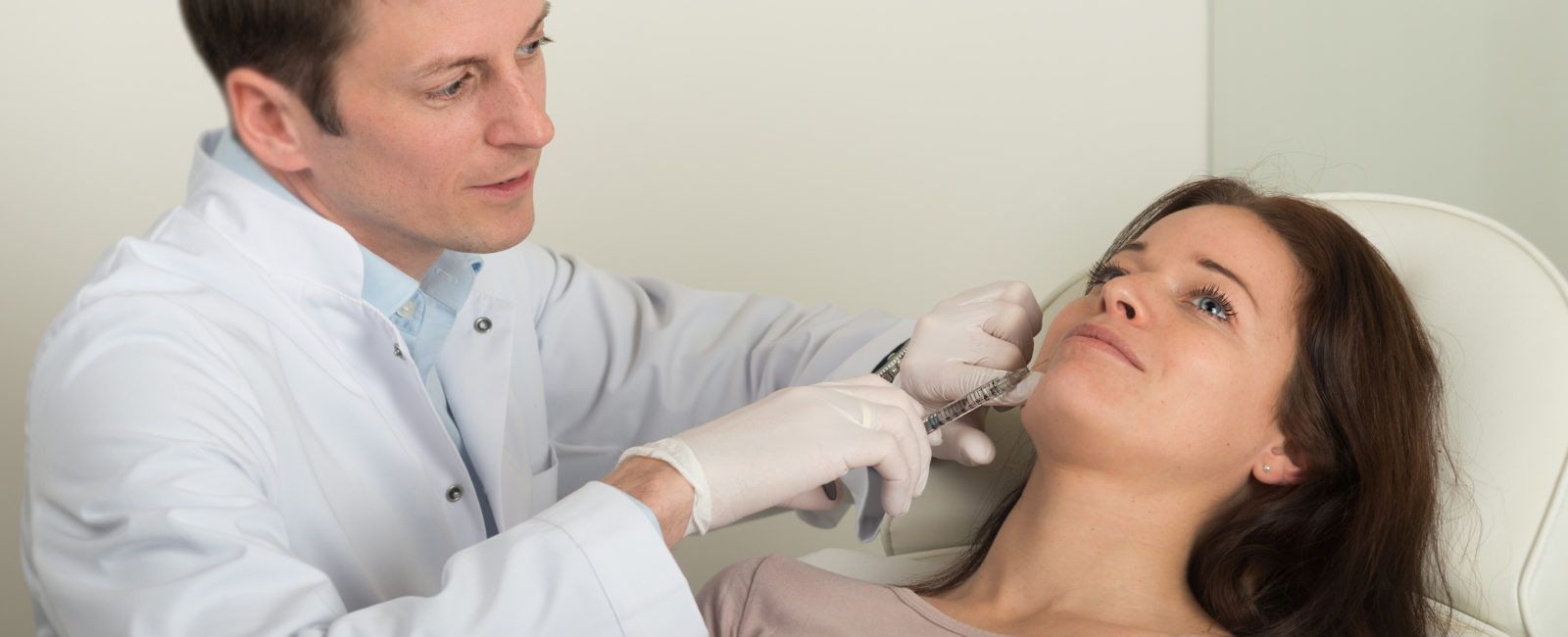 Vampire lifting for rapid skin rejuvenation
What is vampire lifting
In a vampire lift (also known as autohaemotherapy or autoplasmotherapy) the patient's own blood is taken and blood plasma is extracted from it using a special procedure. In platelet-rich plasma (PRP), at least eight growth factors, thrombin or stem cells are highly concentrated and have a rejuvenating effect on the skin. They lead to an increase in connective tissue fibres and thickening of the skin. The body's own hyaluron is thus produced in greater quantities, which improves the skin in the long term and thus allows wrinkles to gently recede.
This enriched blood plasma is now injected into the problem zone, similar to Botox or hyaluronic acid. Wrinkles become smoother, the skin becomes more elastic and appears fresher and firmer. In certain cases, the blood plasma can be used in combination with hyaluronic acid, which smoothes the wrinkles even more effectively.
For a lasting effect, 2 to 3 treatments at intervals of about 6 weeks are recommended. Depending on the condition of the skin, a refreshing treatment can then be carried out every 18 months.
What is Vampire Lifting used for?
The own plasma therapy is used for:
Smoothing of wrinkles in the face, neckline and back of the hand
For hair loss
Your specialists for vampire lifting in Vienna
At the Vienna Dermacare institute, autohaemotherapy is performed by the following experienced specialists:
For the Dermacare team, the fact that customers feel good in their skin is a top priority. The specialists at Dermacare provide you with comprehensive and competent support at all times.
Why should you seek treatment at Dermacare?
The treatment is carried out by experienced medical specialists
A natural treatment result is the top priority.
Highest PRP quality through the most proven brand release agents (Arthrex and Regenlab)
Good public connection (Schwedenplatz) or parking garage for the car in the house
Long opening hours
You still have questions about vampire lifting
FAQ vampire lifting includes answers to common questions about PRP treatment at Dermacare. These questions are not intended to replace a consultation with a medical specialist, but they do provide a first orientation.
FAQ about vampire lifting
Treatment procedure for PRP treatment with autologous plasma
1. Anamnesis Questionnaire
The treatment procedure of a PRP treatment or vampire lifting in Vienna at Dermacare, is explained in detail below. An anamnesis questionnaire will be filled out during the consultation or before each initial treatment. This enables possible risks to be identified and prevented.
2. Medical consultation
First of all, there will be a preliminary talk with the doctor in charge, which will clarify which treatment is suitable for you. Prepare yourself for the interview and talk openly about your wishes and expectations.
3. Digital image
Before the treatment a digital photo of your face or the area to be treated is taken to document your treatment progress in detail.
4. Blood sampling
Blood is taken from you, which is then centrifuged.
5. Centrifugation of the blood
The autologous blood is now centrifuged in a special machine until the red and white blood separate and the thrombocytes are left in the middle. These thrombocytes are the platelet-rich plasma (PRP), in which eight highly concentrated growth factors are enriched.
6. Injection of the plasma
After subsequent disinfection, the platelet-rich plasma (PRP) is applied to the skin with a wafer-thin needle. No redness or bruises occur during this process.
7. Result
The treatment takes about 60 minutes in total. The skin rejuvenating effect is immediately visible. With each additional session, the skin's appearance improves visibly.
Costs of the vampire lift against wrinkles
Note
The prices depend on the quantity of the material used. In individual cases, the price may vary if a large quantity of the required substance is necessary for the desired treatment result. During the consultation the doctor will inform you in such a case.
Expert discussion
The initial consultation for a vampire lift takes place at Dermacare Vienna with one of the specialists. If treatment takes place, no charge is made for the consultation. If a treatment does not take place immediately, € 60,- will be charged as a fee, which we will credit to your account for any future treatment.

Heute war mein 1er Termin bei Dermacare.Ich war dort wegen Haarentfernung mit SHR Laser auf Achseln und Intimbereich.Meine Behandlung hat Micaela gemacht und ich war sehr zufrieden!Die Dame war super nett, kompetent und obwohl ich dachte es wird sich komisch

...

anfühlen, war dem nicht so, weil sie so normal war!Wir haben uns super unterhalten, also konnte ich gar nicht daran denken, das ich unten ohne bin.Werde ich wieder kommen.Die Preise sind aber saftig, wenn man schaut das andere Instituten 3mal billiger sind.Danke

read more

Ich bin sehr zufrieden mit den Behandlungen bei Dermacare, sehr effektiv und preislich top. Bei jedem Besuch ist das gesamte Team immer freundlich und kompetent. Sehr weiterzuempfehlen!

Christin Leyla S
20:41 02 Mar 23
Hi, zurecht volle fünf Sterne verdient!• das ganze Team arbeitet perfekt zusammen und man muss nie lange warten. Natürlich sind einige Behandlungen speziell& sehr gefragt aber auch dabei hatte ich nie Probleme. Sehr gute Terminologie!•zu jeder Zeit sind

...

alle sehr freundlich & kompetent, ich als Kundin war und bin von Erstgespräch bis zur, erst vor kurzem, in Anspruch genommene Behandlung sehr zufrieden - ich persönlich habe starke Aknenarben und ich bin glücklich von Klaudia behandelt zu werden, sie ist einfach wunderbar und unser derzeitiges Ergebniss ist einfach mega!👌🏼Vielen Dank 🌹

read more

Jessica S.
22:27 26 Feb 23
war zum ersten mal da zum lippen unterspritzen und bin mega zufrieden mit dem ergebnis. die ärztin hat alles sehr gut erklärt und ist auf alle wünsche genau eingegangen, das ergebnis ist wunderschön und sehr natürlich, wie ich es wollte. der preis ist

...

definitiv angemessen.

read more

Ich war bei Klaudia und sehr sehr zufrieden!Vom Team bis zur Behandlung alles Top!!

Sehr freundlich und professionell. Unkomplizierte Terminvergabe ohne langer Wartezeit. Schöne und gepflegte Praxis in zentraler Nähe.

Have been a customer for a year now - always good experience. The girls at reception are always very friendly and the procedures are done with highest care and expertise. I am getting facial procedures from Klaudia, as well as eyebrows - I am very happy with

...

the results.

read more

Ich möchte hier festhalten, das ich von der Professionalität und durchgeführtem Behandlung von der Frau dr. SEISER SEHR zufrieden bin. Empfehle die Frau dr. SEISER jedem. Danke

Super Team! Alles sehr professionell, man fühlt sich gut aufgehoben.

Ich hatte Microblading und Permanent Makeup Pudertechnik. Hat mir aber nicht mehr gefallen. Nach 5x Terminen war alles weg . Bin mit Hr. Matheus sehr zufrieden. Kann ich nur weiterempfehlen 👍

Sehr zufrieden , wie immer

patricia P.
11:35 31 Aug 22
Sehr zufrieden mit der Behandlung. Werde sie definitiv weiterempfehlen!

hanntschgn
16:58 23 Aug 22
War bisher dreimal bei Dermacare - einmal zum Beratungsgespräch und bereits zwei Sitzungen zur Laserhaarentfernung. Sowohl bei der Begrüßung/Terminvereinbarung in den Räumlichkeiten, als auch beim Beratungsgespräch, als auch bei den Behandlungen waren alle

...

Mitarbeiterinnen äußerst freundlich und hilfsbereit. Im Speziellen Nikolett von meiner letzten Behandlung: hab mich bestens aufgehoben und super beraten bzw behandelt gefühlt!!! Auch nach zwei Behandlungen kann ich bereits Ergebnisse sehen - bin sehr gespannt auf das Endergebnis.Würde Dermacare auf jeden Fall wärmstens weiterempfehlen!

read more

Isabella H
12:09 18 Aug 22
Ich lasse bei Dermacare die Behandlung "Laser-Haarentfernung" machen und bin vom vorläufigen Result sehr überzeugt - bereits nach der ersten Behandlung sind einige Haare nichtmehr nachgewachsen und nach den bisherigen 3 Behandlungen ist ein Großteil der Haare

...

weg. Ich bin bisher zufrieden und auf das Endergebnis sehr gespannt!

read more

Sehr professionelles und kompetentes Institut. Top Beratung im Vorfeld und auch genauer Beschrieb während der Behandlung.Man bekommt schnell einen Termin und vor Ort kaum/nie Wartezeiten. Ich fühle mich hier gut beraten und behandelt.
Next Reviews
---