Treatment
Laser hair removal in Vienna
Hair removal with SHR in Vienna - painless and cost-effective
Permanent hair removal with laser in Vienna is performed quickly and inexpensively by Dermacare
Body hair is often not only a cosmetic problem, but often also a psychological one. Dermacare is the first institute in Austria to use the SHR technology with 3 wavelengths from ALMA Lasers, which enables painless and effective hair removal. Whether on the face, back or in the genital area: laser hair removal can be applied to all parts of the body where hair is not desired.
Professional hair removal by experts with SHR technology
Painless SHR technology
In order to always achieve the best possible result, we have specialised in permanent hair removal using the latest SHR technology. Permanent hair removal is performed under medical supervision and is currently the most modern and effective procedure for permanent hair removal.
Professional treatment
Experience and conscientious handling of the technology is crucial. All our medically trained employees have the appropriate additional training. We can therefore look back on satisfied customers and great results in permanent laser depilation.
Individual consultation
Our specialists will be happy to advise you in an informative conversation and will be happy to meet your wishes. In a detailed conversation you will receive an individual assessment of the expected success of the treatment and everything you need to know about the procedure and the follow-up treatment.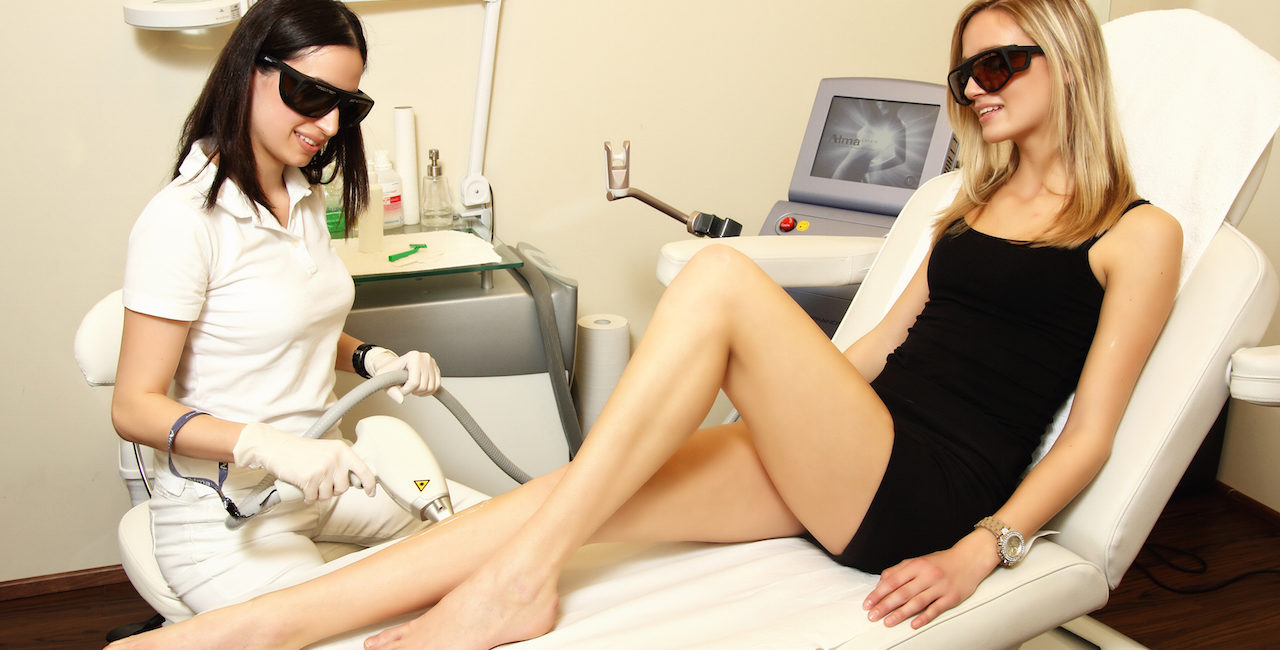 Laser hair removal Vienna with the painless SHR technology
Now even more effective: Laser hair removal Vienna with SHR technology and 3 wavelengths
DERMACARE is the first institute in Austria to specialize in the most effective, gentle and safe method for permanent hair removal: SHR technology with the 3-wavelength laser "Soprano ICE Platinum" (from Alma Lasers, the inventors of the technology). SHR is the short form for Super Hair Removal. It is a patented technique of permanent hair removal. The triple diode laser technology of our laser combines the three most effective laser wavelengths for hair removal, which simultaneously address all areas of the hair root at different depths of the skin. For the first time the wavelengths of 755nm, 810nm and 1064nm are combined in one device. This means that even lighter or thinner hair, which was previously difficult or impossible to remove, can now be successfully treated. The treatments are almost painless, without side effects, are much more pleasant than with conventional systems and the skin is better protected.
Since darker skin or a tan are no longer a problem, the treatment is also possible in summer. Even blond or gray hair can be treated in almost all cases. While only relatively light skin types could be treated with permanent hair removal with IPL (intensively pulsed light) or laser, permanent hair removal with SHR is now possible for almost all hair and skin types without any problems.
Advantages of hair removal with SHR at a glance
Simultaneous treatment in three tissue depths with 755nm, 810nm and 1064nm (exclusive at DERMACARE!)
almost painless
no side effects
also suitable for light hair and dark skin
Treatment also possible in summer
clinically tested
best long-term results
simultaneous treatment in three tissue depths with 755nm, 810nm and 1064nm (exclusively at DERMACARE!)
You still have questions about laser hair removal?
Here you will find answers to the most common questions about laser hair removal with Dermacare. They are not intended to replace a consultation with our experts, but they give you a first orientation.
FAQ about hair removal
Treatment procedure of laser hair removal
1. Consultation
Before the treatment a consultation under dermatological supervision takes place in which all questions can be clarified. Of course, the Dermacare staff will also give you competent advice on all aspects of permanent hair removal with laser.
2. Anamnesis Questionnaire
An anamnesis questionnaire is also filled out during the consultation or before each treatment. In this way possible risks can be identified and prevented.
3. Cleaning of the skin
Before the hair removal treatment the skin is cleaned, disinfected and the hair is shaved, if this has not been done before.
4. Skin Shaving
Shaving the hair on the skin ensures that the laser beam can hit the skin and hair unhindered.
5. Division of the skin area
The area of skin to be treated is divided with a pencil into areas which are later treated one by one with the hair removal laser. Moles are covered.
6. Cooling gel
A cooling gel is applied to the skin to cool the skin and at the same time optimally transfer the laser energy to the skin.
7. Skin treatment with SHR laser device
The treatment head of the SHR laser device is quickly moved 6-10 times over the marked skin areas. In doing so, up to 10 light pulses per second are emitted. The treatment head is cooled and thus reduces any redness that may occur. Advantage of the SHR technique: In contrast to normal laser hair removal or hair removal with flash light, the treatment is painless!
8. Repeated cleaning of the skin
After the treatment the skin is cleaned by the cooling gel and also the white marks are gently removed.
9. Aloe vera gel for a pleasant feeling
To care for the skin we apply a pleasant Aloe Vera gel to the skin. The previously shaved hair is still in the skin after the treatment. Depending on the treated body region, they fall out on their own about 5-21 days after the treatment. A hair root that has been treated in this way is no longer able to produce new hair.
Costs of permanent hair removal with the SHR laser at Dermacare
Note
The cost of laser hair removal refers to an intensive treatment and always depends on the area treated. The number of treatments required varies from person to person and is between 6-10 treatments depending on hair density. We will be happy to explain how many treatment units you need in a personal consultation after a skin and hair analysis.
Free info call
The consultation is free of charge. We prepare a skin and hair analysis, advise you in detail and check your health suitability. You will also receive an individual cost estimate and a treatment plan.
---