Treatment
SculpTight for muscle building and fat loss
Your body treatment for more muscle and less fat
SculpTight: Finally build muscle and lose fat at the same time
Summer promotion: Save -30% until 30.8.2022
Behind the SculpTight Quattro is the highly advanced and effective HIFEM technology. Impulse creates an electromagnetic field, subsequently providing supramaximal muscle contraction. Thus, not only conventional muscles are trained, but all muscle fibers in the body zone of your choice. Best of all, you tone your muscles and lose weight simultaneously!
Professional treatments from experienced specialists
Individual consultation
We attach great importance to a detailed consultation. Specialists and doctors will advise you in the clarification discussion. You will receive an individual assessment of the expected success of the treatment, the costs and everything you should know about the procedure.
State-of-the-art technology
Our equipment is state of the art. For our customers, we only invest in the latest technology to guarantee almost painless treatments, shorter treatment times and efficient results.
Professional treatments
We try to ensure the highest quality of treatment by providing specialist training for our team. Medical treatments are performed by independent doctors who have many years of experience in aesthetic medicine.
SculpTight - quickly and effectively to your dream body!
Within half an hour, the SculpTight-procedure pulls your muscles together and apart 20,000 times. In the process, fat cells burst and are subsequently broken down. Thus, the SculpTight-procedure serves to tighten, build muscle and also reduce fat.
The procedure is based on the so-called HIFEM technology, whereby Highly Intensive Focused ElectroMagnetic Impulses work on the muscles. The procedure has been known for several years as EMSculpt by BTL, EMSculpting or Bodysculpting, whereby only 1-2 handpieces are used.
What is the SculpTight Quattro?
SculpTight Quattro by Dermacare uses four impulse-generating handpieces that are placed and fixed on the body area to be treated. Each handpiece generates an electromagnetic field whose impulses stimulate the muscles to contract. The muscles begin to work and as a result the fat cells are subjected to stress. Adrenalin is released and the fat cells burst. These burst fat cells are broken down over time and your body gets the desired shape.
Muscles are tensed much more during this procedure than during a conventional workout.
How long does the SculpTight-effect last?
Due to the muscle contractions, the fat cells empty and are subsequently broken down. This creates a long-term effect, as there are simply fewer fat cells after the treatment.
Also, the muscle gain or fat reduction remains for a very long time. Studies show that even after a year the muscle gain is noticeable. The SculpTight-procedure is best when combined with strength training. However, even if you do not do any additional physical activity, the new muscles will regress very slowly. After the last treatment, the easiest way to maintain the muscle growth is to do light strength training and then have a refresher treatment with us after about 6 months.
At what point is the SculpTight-effect noticeable?
In many scientific studies, for example, the following effect was achieved after 4 treatments of the abdomen:
∅ 3.6cm circumference reduction 
∅ 19% fat reduction
∅ 16% muscle growth
Already after four treatments within three to four weeks, you can clearly see the fat loss and muscle growth through the SculpTight-treatment. After each treatment the muscles start to grow. You will clearly notice how you get more muscles and lose fat pads at the same time.
How can your figure change through SculpTight?
Due to the fact that the muscles are intensively used during the treatment and at the same time fat is reduced, your body changes after only a short time. For example, the fat reduction makes your buttocks flatter and the muscle building makes them firmer and crisper. You can also achieve a so-called six-pack on the abdomen very quickly with the SculpTight-method.
What is the course of treatment?
For the treatment with the SculpTight Quattro, you lie down relaxed. Our qualified personnel will then place the impulse attachment on the desired zone (abdomen, legs, arms or buttocks). Depending on the zone, a different sized attachment is used. The magnetic wave impulses begin. Without pain, you will feel the resulting muscle contraction. During the treatment, you can agree with the attending physician how intensive the program should be. After the treatment, you will feel like after an extensive sport unit. However, you are immediately ready for action again and do not have to take any breaks, because the treatment is completely without anesthesia, surgery or other medical interventions.
For whom is the SculpTight made?
The SculpTight was developed for all those people who want to efficiently and safely get their body in shape. The unique method reduces fat on the one hand and builds muscle on the other. This duality makes the SculpTight so special. Regular sport units focus on either muscle building or fat reduction. With the SculpTight you kill two birds with one stone. The treatment is equally suitable for both men and women.
However, the SculpTight-treatment is not suitable for severely overweight people. The procedure is suitable for already athletic types who bring some "problem zones" and want to give their bodies the final "touch".
The SculpTight is also not suitable for pregnant women and people with metal implants.
What should be considered after the SculpTight treatment?
There is no downtime. You can resume your normal activities after the treatment.
Muscle soreness may occur after the treatment. Therefore, avoid specific training sessions on the areas treated with SculpTight. This can lead to overuse of the muscle groups.
To achieve and maintain optimal results, maintain a healthy fitness program, diet and lifestyle.
The treatment can be repeated after 2 to 3 days, i.e. 2x/week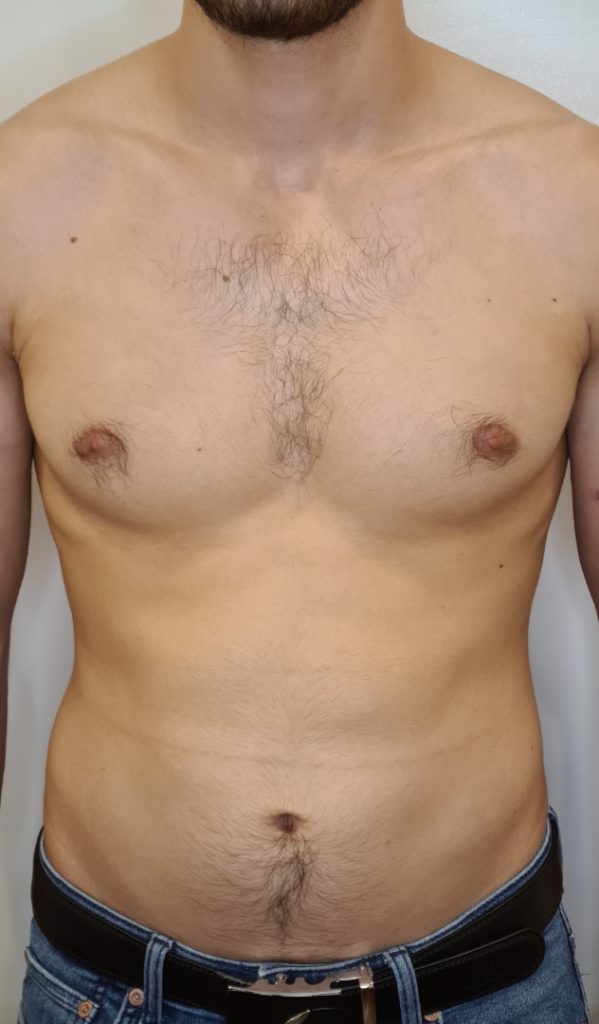 Before 1st treatment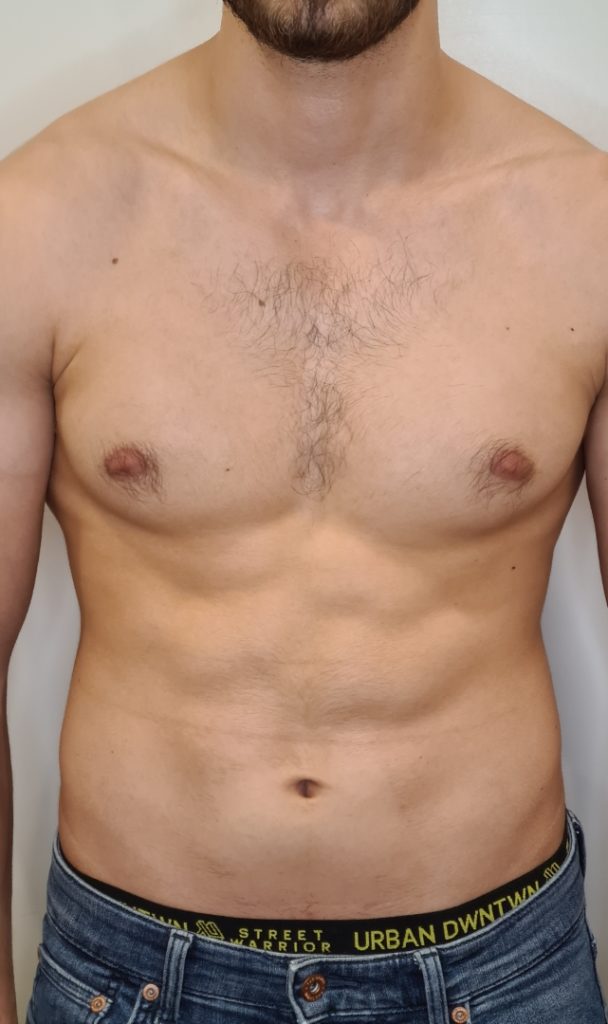 After 4 treatments
A successful treatment outcome may be affected by smoking, excessive alcohol consumption, eating disorders or ongoing use of medication.
Results may vary from person to person and therefore an exact outcome cannot be predicted. To maximise the effectiveness of the treatment, we recommend a low-fat diet, drinking plenty of water or herbal teas (at least 2.5 litres) and plenty of exercise.
In a combination treatment with the CurveShaper PLUS, fat burning can be specifically stimulated.
Free info consultation
The consultation for the SculpTight-treatment takes place at Dermacare Vienna with application specialists and is free of charge.
What customers say about Dermacare

Ich möchte hier festhalten, das ich von der Professionalität und durchgeführtem Behandlung von der Frau dr. SEISER SEHR zufrieden bin. Empfehle die Frau dr. SEISER jedem. Danke

Super Team! Alles sehr professionell, man fühlt sich gut aufgehoben.

Ich hatte Microblading und Permanent Makeup Pudertechnik. Hat mir aber nicht mehr gefallen. Nach 5x Terminen war alles weg . Bin mit Hr. Matheus sehr zufrieden. Kann ich nur weiterempfehlen 👍

Sehr zufrieden , wie immer

patricia P.
11:35 31 Aug 22
Sehr zufrieden mit der Behandlung. Werde sie definitiv weiterempfehlen!

hanntschgn
16:58 23 Aug 22
War bisher dreimal bei Dermacare - einmal zum Beratungsgespräch und bereits zwei Sitzungen zur Laserhaarentfernung. Sowohl bei der Begrüßung/Terminvereinbarung in den Räumlichkeiten, als auch beim Beratungsgespräch, als auch bei den Behandlungen waren alle

...

Mitarbeiterinnen äußerst freundlich und hilfsbereit. Im Speziellen Nikolett von meiner letzten Behandlung: hab mich bestens aufgehoben und super beraten bzw behandelt gefühlt!!! Auch nach zwei Behandlungen kann ich bereits Ergebnisse sehen - bin sehr gespannt auf das Endergebnis.Würde Dermacare auf jeden Fall wärmstens weiterempfehlen!

read more

Isabella H
12:09 18 Aug 22
Ich lasse bei Dermacare die Behandlung "Laser-Haarentfernung" machen und bin vom vorläufigen Result sehr überzeugt - bereits nach der ersten Behandlung sind einige Haare nichtmehr nachgewachsen und nach den bisherigen 3 Behandlungen ist ein Großteil der Haare

...

weg. Ich bin bisher zufrieden und auf das Endergebnis sehr gespannt!

read more

Sehr professionelles und kompetentes Institut. Top Beratung im Vorfeld und auch genauer Beschrieb während der Behandlung.Man bekommt schnell einen Termin und vor Ort kaum/nie Wartezeiten. Ich fühle mich hier gut beraten und behandelt.

Manuela L.
04:44 30 Jul 22
Ich war jetzt schon das zweite Mal bei Klaudia und bin echt begeistert! Sie ist eine ausgesprochen nette Und kompetente Kosmetikerin. Sie erklärt einem alles ganz genau! Jederzeit wieder!

Belinda N.
07:42 29 Jul 22
War jetzt schon zum 4. Mal bei Dermacare und bin wie immer sehr zufrieden! Tolles Personal, und gute Beratung. Alles Top :)

Sabrina L.
19:20 14 Jul 22
Ich war diese Woche zum 2. Mal in dem Dermacare Institut. Die Mitarbeiter sind freundlich, das Institut sehr angenehm gestaltet.Die Behandlung ist angenehm und tut meiner Haut gut. Die Kosmetikerin ist super freundlich und bemüht. Ich freue mich schon auf

...

meinen nächsten Termin in 2 Wochen.

read more

Patrizia L.
12:48 07 Jul 22
Ein ausgezeichnetes Schönheitsinstitut mit ausgezeichneten Fachärzten besonders Frau Dr. Cermak ist eine hochqualifizierte ausgezeichnete einfühlsame und überaus kompetente Fachärztin die ich nur jedem empfehlen kann. Danke für Ihre Hilfe liebe Frau Doktor

...

und dem ganzen Team !!!

read more

Erika Raquel P.
17:04 04 Jul 22
Ausgezeichnete Behandlung! Ich habe gleich einen neuen Termin gemacht :) Klaudia ist soooo nett und erklärt einfach alles. Sie nimmt sich auch die Zeit! Habe mich noch nie so gut gefühlt 😍😍😍

Vanessa S.
13:03 27 Jun 22
Ich bin sehr zufrieden mit den Behandlungen bei Dermacare, sehr effektiv und preislich top. Bei jedem Besuch ist das gesamte Team immer freundlich und kompetent. Sehr weiterzuempfehlen!
Next Reviews
---