Laser for tattoo removal at Dermacare
Laser for tattoo removal at Dermacare
Which laser systems do we use?
Not all tattoo lasers are the same! Therefore it is important to us to use only the best laser systems, which have proven to be the most effective. We always invest in the most modern technology and only buy proven systems for which comparative medical studies have been conducted. Before use, we check whether the device actually delivers what the manufacturer promises. Only in this way can we guarantee our customers effective treatments.
---
PICOPLUS – the most innovative 2nd generation picosecond laser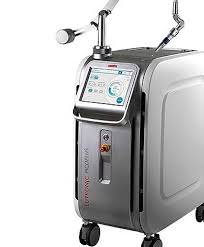 Picosecond lasers have been around since 2013, when the so-called PicoSure was on everyone's lips, but the technology was not yet mature.
The new PICOPLUS-laser from Lutronic introduces the 2nd generation of picosecond technology and is the most innovative system on the market. Dermacare is the first medical centre in Austria to use this laser. The PICOPLUS is the most powerful picosecond-laser ever built. It combines the safety and efficiency of a nanosecond laser with the improved performance and results of picosecond technology.
Advantages of the PICOPLUS-laser:
Picosecond laser of the new generation
better treatment results
both pico- and nanosecond technology in four different wavelengths (1064, 532, 595 and 660 nm). Therefore almost all colours can be treated
The treatment is less painful than ever
30% less treatments than with other laser systems
During the treatment the thermal reaction in the tattoo is lower, therefore the healing happens much faster
Due to the shorter pulses it is possible to treat with higher power
Almost all colours can be treated
What can be treated with the Picoplus laser?
Tattoos
Melasma
Ota-Nevus
Lentigo
Freckles
Seborrheic keratosis
Skin rejuvenation
Acne-related erythema
Inflammatory acne
Facial flushing
Traumatic tattoos
Tattoos with red tattoo ink (allergic reaction)
---
REVLITE SI – The proven and safe laser in tattoo removal

With the Revlite laser Dermacare 2015 introduced the most proven laser system at that time. Since then thousands of tattoos have been successfully removed with it.
The Revlite SI uses Nd:YAG as laser medium and is safe for all skin types
The laser works with almost all tattoo colours and dissolves them
Use of four different wavelengths (1064nm/532nm/ 650nm and 585nm) for almost all colours
The device has about 60% more energy than comparable lasers
The spot size reaches up to 10mm, which allows faster treatments and a deeper penetration into the skin
Single pulses of 5 nanosecond probes break the tattoo ink without damaging the skin
Precise laser beam and uniform beam profile
More information about tattoo removal at Dermacare can be found here.
Call us at 01 532 03 34, send us an e-mail to info@dermacare.at, book directly a suitable appointment for you, use our contact form to make an appointment for a consultation or treatment for a tattoo removal with laser!